ARTIE BUCCO LOVES BIG BUSINESS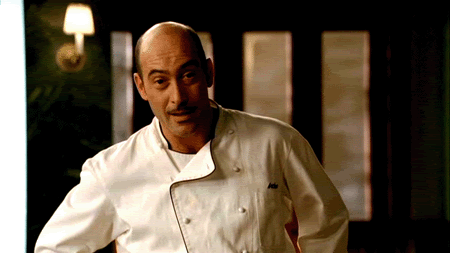 While headbanging and throwing the horns at an indie metal act along with countless others in a packed crowd, the last person you expect to see rocking out is a dude from The Sopranos. Well, that's exactly what I spied with my little eye during the Big Business show in New York City last night.
Indeed, John Ventimiglia, the actor best known for his role as restaurateur Artie Bucco on the sadly departed HBO mafia drama, stood grinning mere feet from the admirable pit that erupted during "Hands Up", one of the finest tracks from Big Business' impeccable sophomore album Here Come the Waterworks. Even as a devotee of the aforementioned television program, it was hard to keep my eyes off the band, which absolutely fucking ruled Mercury Lounge, one of the last few good rock clubs left in this godforsaken town. As the previously leaked "Gold and Final" suggested, the new tracks played from the imminent Mind The Drift (which was available for sale at the show!) lack the visceral groin-level kick of their earlier songs. The audience definitely seemed to dig these newer, less frenetic tunes, though of course responded to familiar cuts like "Just as the Day was Dawning" with cathartic bodily tremors. Drummer Coady Willis displayed a fascinating rhythmic combination of militancy and avant-aptitude throughout the set, while Jared Warren's basslines completely overshadowed the less prominent guitar work of new member Toshi Kasai. Though enjoyable as a texture, Kasai's performance seemed almost superfluous considering the proficiency and sonic dominance of the rhythm section, something rarely noticed at metal shows.
The only letdown of the night was opener Tweak Bird, a scraggly bass-drums duo whose quite likable debut was produced by Kasai and Melvins drummer Dale Crover. I was surprised by just how underwhelming these guys were considering they essentially played material from that one release, and I really hope it was just an off-night for the band since the headliner was well worth showing up for. Anyhow, you can see for yourself as Big Business continues its U.S. tour through the beginning of June.
May 12 – Middle East Downstairs – Boston, Massachusetts
May 13 – Grog Shop – Cleaveland, Ohio
May 14 – The Basement – Columbus, Ohio
May 15 – Headliners Music Hall – Louisville, Kentucky
May 16 – Small's – Detroit, Michigan
May 17 – The Bottom Lounge – Chicago, Illinois
May 18 – Triple Rock Social Club – Minneapolis, Minnesota
May 20 – Larimer Lounge – Denver, Colorado
May 21 – Bar Deluxe – Salt Lake City, Utah
May 22 – Neurolux – Boise, Idaho
May 23 – Dante's – Portland, Oregon
May 25 – Neumo's Crystal Ball Reading Room – Seattle, Washington
May 27 – Bottom of the Hill – San Francisco, California
May 28 – Detroit Bar – Costa Mesa, California
Jun 1 – Troubadour – Los Angeles, California
Jun 2 – Casbah – San Diego
-GS
[Gary Suarez brings May flowers. He also writes for Brainwashed and usually manages the consistently off-topic No Yoko No. Say, why don't you follow him on Twitter?]
Sponsored Links from Across the Internet
Show Comments