BOTH KIM THAYIL AND I AGREE THAT PISSED JEANS ARE TOTALLY AWESOME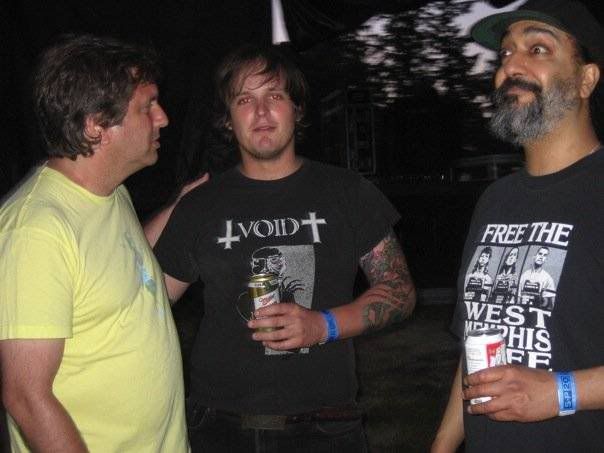 For those of you still skeptical of whether or not Pissed Jeans are worth your time, your precious hero Kim Thayil (of the world-famous TADGARDEN) digs the group enough to appear in a photo with one of its members. (Also shown: Sub Pop Records co-founder Jonathan Poneman.) And if such minor metal celebrity proximity doesn't persuade you, perhaps one of the band's newest songs will. Replete with the raucous riffage and humid sleaze that made 2007's Hope For Men so irresistible, "False Jesii Part II" is the first track from the forthcoming King Of Jeans record and you can download it for free from Sub Pop directly. This is probably the album I'm most excited about this year, and I really hope you can take the time out of your busy Internet schedule of masturbating and expressing butthurt over our 21 Best Metal Albums of the 21st Century… So Far to give it a listen before King Of Jeans drops on August 18th.
-GS
[Gary Suarez will not be attending the Michael Jackson memorial event. He also writes for Brainwashed and usually mismanages the consistently off-topic No Yoko No. Say, why don't you follow him on Twitter?]
Podcast: Play in new window | Download | Embed
Subscribe: Google Podcasts | Spotify | RSS | Subscribe to The MetalSucks Podcast!
Sponsored Links from Across the Internet
Show Comments