ALBUMS WE WISH HAD MADE THE LIST: ANDREW W.K. – I GET WET
Andrew W.K., I Get Wet (Island, 2002)
Andrew W.K. – vocals
Jimmy Coup – Guitar
Erik Payne – Guitar
Frank Werner – Guitar
Gregg Roberts – Bass
Donald Tardy – Drums
Produced by Andrew W.K., John Fields, Scott Humphrey, TSD, Frank Vierti
It has been suggested by some of our commenters that I don't belong here. Be it my distaste for deathgrind, my inability to appreciate the tr00 kvlt nature of Norwegian black metal, or the fact that I don't give a flying fuck about Protest The Hero, I've always felt like an outsider around you people. Yet at no point did I feel so out of place than during the countdown of the 21 Best Metal Albums of the 21st Century… So Far. Sure, I participated. I submitted a list. I presumed many of my picks would never make the cut (Unsane's Visqueen; Zozobra's Harmonic Tremors), but also acknowledged less esoteric favorites of mine from the past nine-and-a-half-years (Boris Pink; Down's III: Over The Under) that I thought had a shot. Still, nothing could have prepared me for the sheer disappointment these past few weeks when none of my favorite albums made the goddamn list.
Rather than be mature about this sad state of affairs, I am now going to explain why everyone who voted in this poll is a fucking butthole for not selecting Andrew W.K.'s 2002 masterpiece, I Get Wet.

From the opening riff, it's pretty obvious that this record is going to fucking rock. Seconds later, when the vocals come in, there's no mistaking that I Get Wet is the ultimate party album. After all, the first track is called "It's Time To Party," and the upbeat lyrics firmly support that statement. Clearly, Andrew W.K. is devoted to the institution of the party, which is essentially what rock-and-roll music is all about. "Party Hard" (video here) and "Party Til You Puke" continue this theme and inspire all sorts of unbridled awesomeness.
But I Get Wet isn't just about partying. No sir. It's also about the ladies. Considering the majority of those who voted in this poll have never even kissed a girl [Uhhhh… – Ed.], it's understandable how they didn't relate to the sex positive message in such killer cuts as "Girls Own Love" and "She Is Beautiful" (video here). Such positivity extends even as Andrew addresses hardship, as evidenced on "Got To Do It," arguably the most motivational metal song ever written. If you've got adversity to overcome, this is the fucking album for you. Hell, just the wicked fast tempos of these songs themselves trigger optimism aneurysms!
If you like guitars, you'll love I Get Wet. The music is at least 80% guitar thanks to all the multitracking. The actual vocals comprise an additional 110% of the album, especially since it sounds like thirty Andrews are shouting the lyrics at any given time. Throw in another 20% for bass, drums, keys, and programming, and you've got yourself 210% of an album, one that is truly worthy of Nigel Tufnel's "up to eleven" amplifier.
Andrew's 2003 follow-up, The Wolf, attempted to recreate the magic of I Get Wet, and while that did offer plenty of fist-pumping anthems, it could never match the motherfucking juggernaut of modern rock that came before it. Came all over your mom's back, that is.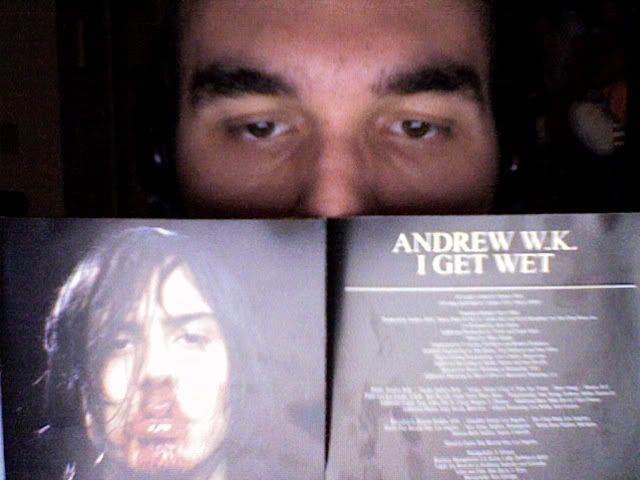 -GS
[Gary Suarez party party party party party party party party party party party party party party party party party party party party party party. He also writes for Brainwashed and usually manages the consistently off-topic No Yoko No. Say, why don't you follow him on Twitter?]
Sponsored Links from Across the Internet
Show Comments