COURTNEY LOVE BELIEVES AN AMERICAN EXPRESS BILL DETERMINES HER RIGHTS TO HOLE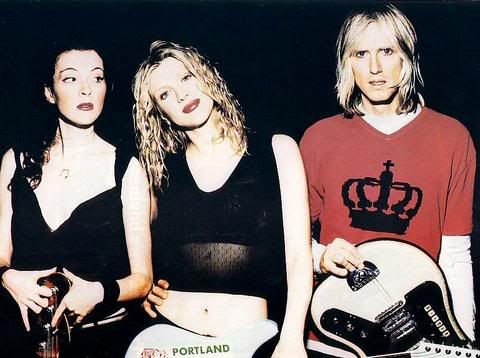 When I first heard that Courtney Love was going to release her long-delayed solo record under the Hole name, I considered it "a huge fuck you to co-founder Eric Erlandson." Though the argument has been made that the influence and involvement of Kurt Cobain and Billy Corgan may have had more to do with the band's successes than the work of its official membership, I wondered how it was even permissible for her to utilize the name. Surely there had to be legal hurdles to be dealt with that couldn't be dismissed without consent from former members. (I mean, Axl Rose effectively destroyed Guns N' Roses by compelling his bandmates to relinquish all rights to the name.) So I've been waiting for Erlandson or someone from Hole's management to comment on Love's unilateral decision to shamelessly cash-in on the Hole brand. Well, at last, he has:
Furthermore, guitarist Erlandson insists a contract Love signed with him in 2002 bans her from using the name Hole for any future ventures, unless he's involved. He tells Spin magazine, "We have a contract. She signed a contract with me when we decided to break up the band, which was like 2002 or something, so I really don't have comment on it except that I know my part in that band. The way I look at it, there is no Hole without me. To put it blunt. Just on a business level… Somebody told me (about Love's plans) and it just sounds like something… it just sounds like the usual. I love her a lot and I wish her the best, and I'm open to discussions regarding the real Hole, and if she has a solo album together, I think that's great. I think she should finish it and put it out and do that."
Of course, Love has responded to this seemingly sound logic with her usual grace, tact, and impeccable grammar… via Twitter.

There are a few Tweets from her account, so I'll lay them out individually in their 140-characters-or-less glory:
uh i just hear that a former guitar player is saying i cant use my name for MY band, hes out of his MIND, he may want to check the trademark

and his amex "Disease Model Tour" Bills, and umm, lets see his 99 usage of that amex and his 01 usage of wow 298K?198,000DOLLARS? Hole is

MY Band MY name and MY Tradmark he also might want to check his TAXES versus my redone Taxes on a bogus ssn, and talk to @Perezhilton's
Considering Love's antics over the past decade-and-a-half, I am more than a bit dubious that she has any clue about "Tradmark" or the intricacies of intellectual property law. Furthermore, while I can't exactly decipher the AmEx reference she's making, that's assuredly a separate issue and does not entitle her to the band name any more than buying a Hole t-shirt would. Even if she can make a spelling-error riddled case for "Hole = Courtney Love", the truth is that if she or someone with power of attorney over her signed the aforementioned 2002 contract, then she's going to have to play ball with Erlandson or risk a lawsuit. I'd actually love for the two of them to kiss and make up so we could get a proper Hole reunion out of this mess.
This whole thing makes me long for the carefree days of my grunge rock youth. I'm going to listen to old Nirvana songs now.
-GS
[Gary Suarez wants to be the girl with the most cake. He also writes for Brainwashed and usually manages the consistently off-topic No Yoko No. Say, why don't you follow him on Twitter?]
Sponsored Links from Across the Internet
Show Comments