FOOD AND MOUTHEATER RESPECTIVELY WAVE THE FLAG FOR GRUNGE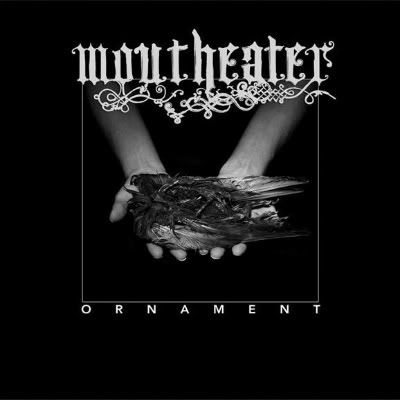 I miss grunge, and if you read my posts with any regularity that should come as no surprise. Now far too many people dismiss the dormant genre for its commercial successes, or even because of a reviled legacy that yielded such aural abominations as Puddle Of Mudd and Staind. Yet the Pacific Northwest in the late 80s and early-mid 90s had so many exciting and delightfully disgusting artists that made truly grungy music while never selling out stadiums, artists like Green River and Tad. I would argue that we need to factor in the descendants of these artists before passing any final sweeping negative judgment of the so-called Seattle sound. Thankfully, the orallly-fixated Food and Moutheater help to counter the Seattle sound's unwarranted bad rep.
Food's stellar self-titled, vinyl-only debut on the Molsook imprint makes several nods to the good old days of grunge, yet would also be quite at home next to Bison B.C. and even classic Melvins. The riffs are deep and grimy with ever-present support from a potent rhythm section. Frontman Johnny Fink screeches as much as he screams his lyrics on powerful uptempo cuts like "Cascadia" and "March Fourth," though the band really hits its stride on the ten minute low-n-slow sludgefest "Love.". Here, the bass rumbles and roars over the spare-sounding drum kit, while Fink plays dissonant guitar, sometimes stepping out of the mix completely to let Jeff Grant and Ryan McLennan show off. One of the best releases I've heard this year, this five-song LP is a mean motherfucker that will please fans of Mastodon and Mudhoney alike.
Where Food counts grunge among its influences, Moutheater pretty much embodies grunge. In fact, Ornament, the band's latest, could easily have come out on Sub Pop in 1992. (Then again, the band's previously 7″ was produced by Steve Albini, who you should already know was behind the board for Tad's Salt Lick.) Drenched in feedback and teeming with vitriol, tracks like "Inept" and "Obsolete Rhythm" don't try to reinvent the wheel, making for some sinister sentimental listening. "Guts" is a jump-up-and-riot banger with howled verses and wailed choruses, while slow n' sleazy "The Big Breath Before The Deep Plunge" possesses a categorically uncomely bassline that wouldn't have been out of place on Nirvana's Bleach. I could do without the disruptive, unremarkable noise tracks like "Honesty" and "Negative Life", but barring this Ornament doesn't disappoint.
Food, "s/t"
(4 out of 5 horns)
Moutheater, "Ornament"
(3 1/2 out of 5 horns)
-GS
[Gary Suarez eyes me like a Pisces when I am weak. He usually manages the consistently off-topic No Yoko No. Say, why don't you follow him on Twitter?]
Sponsored Links from Across the Internet
Show Comments