MELVINS CAUGHT ON SECURITY TAPE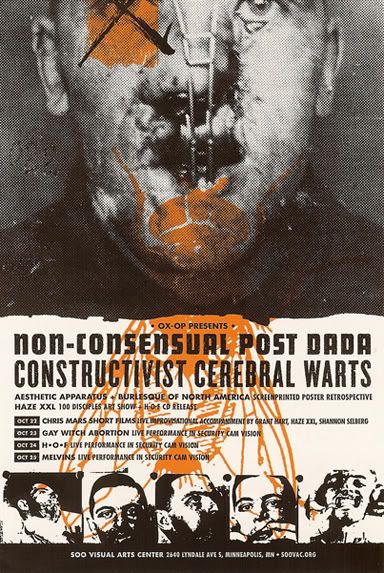 How could I take over this stupid-website-for-jerks for an entire day without doing a Melvins post?! Well, I guess the answer is "I can't" because this is a Melvins post.
Amphetamine Reptile doesn't actively sign or release just about anything anymore, which is a damn shame considering the number of amazing acts it unleashed upon the music world in its heyday. Thankfully, one of the few acts still affiliated with the Minneapolis-based label is The Melvins, who discreetly release a preposterously limited 7″ through AmRep roughly once a year to satisfy fanatical completists. (One such release featured a rendition of "The Star Spangled Banner" on the A-side and an unflinchingly true-to-the-original cover of Kiss' "Detroit Rock City." Yeah.)
The band's continued relationship with Tom Hazelmeyer (a.k.a Haze XXL) apparently also extends beyond the conventional music world and into the local art scene, as indicated by this upcoming event at Minneapolis' Soo Visual Arts Center:
On October 22nd through 25th, SOOVAC Gallery will host a conceptual tour de force seldom seen outside the two coasts… The side gallery will present a bizarre opening of local artist and alternative music mogul, HAZE XXL. A multi-media onslaught, the exhibition consists of 100 individually hand-made art CD sleeves, each containing original art and individual Polaroids, along with HAZE XXL created objects d'art featured in numerous national shows including the Andy Warhol Museum in Pittsburgh… Each night of the four-day event, performance art takes on a literal meaning with live music sequestered in yet another gallery within the gallery. The musicians will be performing behind large screened windows facing the main gallery, harshly backlit so that the audience sees only silhouetted shadows and movement. Four security cameras inside the room will broadcast those performances live onto screens in the main gallery, playing with perceptions of time and space and lessening even further our distinctions between reality and the alternate broadcast reality which is far to often blurred.
So guess who's playing the final night of this event? Go on. Guess. I'll give you a hint: LOOK AT THE FUCKING TITLE OF THIS POST!
More information can be found at the SOOVAC site, I guess.
-GS
[Gary Suarez is a stoner witch. He usually manages the consistently off-topic No Yoko No. Say, why don't you follow him on Twitter?]
Sponsored Links from Across the Internet
Show Comments