EYEHATEGOD TRY TO MAKE A BOAT SINK, WITH A LITTLE HELP FROM THEIR FRIENDS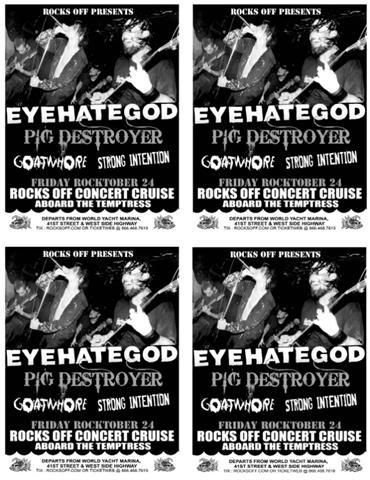 Upon first hearing that Eyehategod would be performing a New York City show on a boat, my immediate thought was, "That fucker is gonna sink." My subsequent thought was, "I want to go to this." And so I did. With a considerably steep $40 ticket price, one might think that attendees paid for the novelty of the experience, and to an extent, they'd be right. Yet coupled with headliner-quality openers like Pig Destroyer and Goatwhore, it was actually quite a bargain.
Strong Intention kicked things off before The Temptress even left the dock, with concert organizers apparently quite mindful of the midnight curfew. Their enjoyable, though straightforwardly nondescript hardcore set quickly animated a discernibly enthusiastic crowd, with a small pit forming in the astoundingly narrow performance space. Feeling more claustrophobic than usual, I had made my way to the upstairs bar for an overpriced Jack & Coke, the first of several to be consumed that night. Without an actual stage to play on, the band propped up a table as a makeshift barricade, one which was rapidly and frequently compromised by flailing bodies. The boat had begun to move, though I didn't notice at first.
On the upper level, I attempted in vain to find a good vantage point from which to watch Goatwhore. Such spots were few-and-far-between, already snatched up by those who had genuinely weathered the storm afflicting the city, arriving at Pier 81 much earlier than me. Though I had never seen a Goatwhore show (and technically, my view was so poor that I can't fairly say that I saw this one), my expectations were high based on the praise lavished upon Carving out the Eyes of God. From my obstructed perch, I watched the crowd's enthusiastic response to the NOLA blackened metal act, whose vocalist at one point made a dismissive comment about the futility of the aforementioned table-as-barricade. Perhaps the most notable sight on the more-and-more densely-packed lower level was a middle-aged man wearing a Dave Matthews Band t-shirt. I can say confidently and without the slightest bit of sarcasm that he was easily the most dedicated and energetic member of the entire audience, putting youngins to shame with his impassioned shoving and moshing. At one point later in the night when this imposing man walked past me, I was awed and more than a little scared. The boat had somehow shrank.
Even after three reasonable boozy drinks, the sight of a couple donning pig masks seemed odd. Yet Scott Hull's Pig Destroyer were deserving of such displays of fandom, as evinced by their raucous grindcore set. Secretly, I wished for the band to play "Natasha", the 35 minute sludge-soaked ambient bonus track that accompanied 2004's Terrifyer, hoping to experience a real live mutiny. Fortunately, my misanthropy was not indulged by Pig Destroyer, though their violent and vile set did not disappoint in the least. I'd managed to score an obscured view of the band, though the real sight was the audience below, people thrashing against one another not unlike the waves crashing against the ship's hull. Shortly following their tumultuous set, I made my way outside to the deck to take in the sights of New York City at night. The rain that had drenched just about everyone on the way to the pier had abated into a steady drizzle. It was almost tolerable.
When Eyehategod came on, my excitement grew exponentially. If this ship were meant to go down, this would be when it happened. Presuming the worst, I stayed on the upper level and scored my best view yet standing behind a young woman who couldn't have been taller than 4'9″. Mike Williams seemed less antagonistic than I'd anticipated, welcoming the audience's ramped up ferocity. Plowing through a set of Southern-fried sludge, the band sounded downright amazing and a considerably intoxicated crowd (myself included) responded with cheers and roars. Some goon with a Confederate flag made an appearance, a gesture to which Williams responded quite negatively. Though conscious of the aforementioned curfew, Williams insisted on playing for another hour, a promise that the organizer's and ship's staff would not let him keep. The bouncers, visibly none too pleased with how the night was going, seemed almost relieved after the final song. As we all made our way back onto the dock and toward the street, we were bid adieu by these burly gentlemen with cries of "Get the fuck off my pier!" And so we did.
-GS
[Gary Suarez saw Antichrist this weekend. He usually manages the consistently off-topic No Yoko No. Say, why don't you follow him on Twitter?]
Sponsored Links from Across the Internet
Show Comments