THE MOST IMPORTANT METAL RELEASE OF 2010?
Now that I've passed off my Best of 2009 list to Axl and Vince, I can now thankfully move on to thinking about what's to come in 2010. After many agonizing years of legal wrangling, Close Calls With Brick Walls, Andrew W.K.'s follow up to The Wolf, will at last see a proper stateside release via the artist's Skyscraper Music Maker imprint. Due out February 23rd, 2010, the album was originally limited to a Japanese edition in 2006, followed up by a limited vinyl run the subsequent year. Promising track titles include "I Want To See You Go Wild", "Slam John Against A Brick Wall", and "Not Going To Bed". Now, once and for all, everyone will finally have a chance to hear what Andrew W.K. has long wanted to share with us…
BUT WAIT! There's more…
The above video clip, posted earlier today on his Twitter account, announced that Close Calls With Brick Walls will have a companion album entitled Mother of Mankind. featuring 21 "rare and unreleased" tracks. GAD-ZOOKS!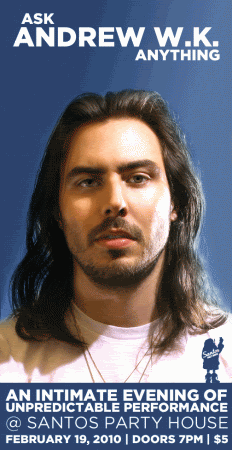 Then, on February 19, a few days prior to this major release date, Andrew W.K. has scheduled a Q&A session at his Santos Party Haus nightclub. Dubbed "an intimate evening of unpredictable performance," the description of what is sure to be an unforgettable event is as follows:
Due to an overwhelming amount of questions regarding his career, his past, and his future, Santos Party House co-owner, Andrew W.K., has decided to offer himself to the people of New York City, for an evening of totally open inquiry. This is a chance to ask Andrew anything, and he'll certainly do his best to answer everything. Have your questions in mind and come on down to This is a one-night-only event sure to get the PARTY going HARD!
I don't know about you, but I don't think I could be more excited about all this if I tried. One thing is for sure: FEBRUARY IS GONNA BE ONE LONG PARTY!
-GS
[Gary Suarez got to do it. He manages the consistently off-topic No Yoko No. Say, why don't you follow him on Twitter?]
Sponsored Links from Across the Internet
Show Comments