SXSW '12 UPDATE – CRO-MAGS, THE SWORD, BLESSTHEFALL, A SKYLIT DRIVE, SKRILLEX + 20+ MORE METAL BANDS ADDED!!
Just three days ago, I posted the first master list of all the metal-friendly acts that will be heading to SXSW in Austin, Texas in just over a week. I also mentioned that the line-ups will change numerous times between then and the end of the conference. On cue, we have a whole new batch of metal/hardcore/metallish bands added to the massive line-up.
If you plan on attending the conference, please refer to my constantly updated SXSW 2012 Metal list here.
You can also find all of the SXSW 2012 Metal Panels info here.
Here are some of the recent highlights, time and/or venue changes, special appearances, second shows added, etc:
Cro-Mags (pictured above) – Thursday, March 15 (actually early Friday morning March 16) at 1:00am at the Barbarella Patio;
The Sword – Wednesday, March 14 at 11:30pm at The Main;
blessthefall – Thursday, March 15 (actually early Friday morning March 16) at 1:10am at The Jr;
A Skylit Drive – Friday, March 16 (actually early Saturday morning March 17) at 12:30am at the Jr;
Skrillex has added three shows – Thursday, March 15 at The Main @time TBA; Friday, March 16 at 11:00pm at Mohawk Patio, and also Friday, March 16 (actually early Saturday morning, March 17) at 1:00am at 1100 Warehouse;
…And You Will Know Us By The Trail Of Dead – Tuesday, March 13 (actually early Wednesday morning, March 14th) at 1:00am at Hotel Vegas;
Skrew's showcase date and time has been changed to Tuesday, March 13th at 10:00pm. It's still happening at The Jr;
The Cult has a second showcase listing but no date, time, or even locale in place yet – so we'll see. Also, the time has been settled on their free show at Auditorium Shores on Saturday, March 17 for 8:00pm;
Pennywise has added a second showcase on Wednesday, March 14 at 9:00pm at The Main;
Saviours, part of the Tone Deaf Touring package, have a set time now of 10:30pm on Wednesday, march 14 at the Dirty Dog Bar;
Former Ministry and Nine Inch Nails drummer Martin Atkins will be signing his book, Tour: Smart, in Ballroom G Foyer in the Austin Convention Center on Thursday, March 15 from 2:30pm – 2:45pm.
Other new bands added to the monstrous SXSW metal list include Dead By April, Wo Fat, Woe Is Me, Attila, Power Trip, Black Breath, For The Fallen Dreams, Sleeping With Sirens, I.U.D.M., Dead Sara, Borgore, Tonight Alive, and Former Thieves.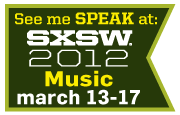 SEEING RED: AESTHETICS AND VISUALS OF METAL
I will be loosely moderating a discussion about heavy metal artwork with M. Shawn Crahan, AKA "Clown," from Slipknot, Mike IX Williams from Eyehategod and Arson Anthem, and Orion Landau, in-house designer for Relapse Records.
THURSDAY, MARCH 15 @ 2:45PM in Rooms 11 A & B in the Austin Convention Center.
-CM
Corey Mitchell is a best-selling author of several true crime books and is currently helping Philip H. Anselmo write his autobiography.
Join Corey at Facebook, Twitter, and Google+.
Come up and say "Hi" if you see me at SXSW.
Sponsored Links from Across the Internet
Show Comments