Ghost Announce "Black to the Future" North American Headlining Tour
Ghost have announced a North American headlining tour in support of their new album, Meliora. It's called the "Black to the Future" tour, which is a cute pun… one which God Forbid — a band whose line-up was actually 80% African American (or maybe 60%, if you consider that the Coyle brothers are half-Caucasian) — thought of years ago, resulting in some fantastic merch which I, as a lily-white man, never thought I could get away with wearing:
I never saw it, but apparently there was an episode of Family Guy that also used the same gag: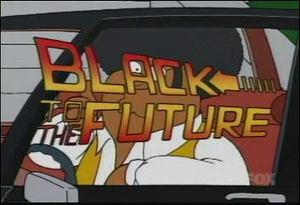 Still, nothing about Ghost is exactly "original," per se, so maybe don't hold this against them?
In fact, I highly recommend attending this tour if you can; I've said this before, but now I'll reiterate that this band is really fun live (I wasn't even fully sold on them 'til I caught them in concert).
Here are dates:
September 22 – The Fillmore – Washington, DC
September 23 – Newport Music Hall – Columbus, OH
September 25 – Stage AE – Pittsburgh, PA
September 26 – Union Transfer – Philadelphia, PA
September 27 – Terminal 5 – New York, NY
September 28 – House of Blues – Boston, MA
September 30 – Metropolis – Montreal, QC
October 1 – Sound Academy – Toronto, ON
October 2 – The Majestic Theater – Detroit, MI
October 3 – The Riviera – Chicago, IL
October 5 – Liberty Hall – Lawrence, KS
October 6 – The Pageant – St. Louis, MO
October 8 – The Civic Auditorium – New Orleans, LA
October 9 – The Tabernacle – Atlanta, GA
October 10 – Beacham Theatre – Orlando, FL
October 11 – The Ritz – Tampa, FL
October 13 – House of Blues – Dallas, TX
October 14 – Aztec Theater – San Antonio, TX
October 16 – Sunshine Theater – Albuquerque, NM
October 17 – Sumitt Music Hall – Denver, CO
October 19 – Knitting Factory – Boise, ID
October 20 – El Corazon – Seattle, WA
October 21 – Roseland Theatre – Portland, OR
October 23 – Warfield – San Francisco, CA
October 26 – The Mayan Theater – Los Angeles, CA
October 27 – Knitting Factory – Reno, NV
October 28 – The Depot – Salt Lake City, UT
October 30 – Northside Park Theater – San Diego, CA
October 31 – House of Blues – Las Vegas, NV
November 1 – Monster Mash Festival – Phoenix, AZ
Sponsored Links from Across the Internet
Show Comments