Not Funny: Emperor Rhombus' Top Fifteen Metal Albums of 2015
Fuck, man, 2015. Paris and Bucharest. BB King, Phil Taylor, Jim Sadist, Frank Watkins, Christopher Lee, Wes Craven. Turmoil and upheaval on a global and personal scale. I started blogging daily for this site. I moved across the country. I sent out what feels like a thousand fucking resumes only to realize I have few skills other than writing about metal and doing a passable Kermit The Frog impression. I turned thirty. I bought a couch.
Last year, I was all positive in my Best Of intro. "The highs have won," I wrote. But I also mentioned that my optimism was "just tempting karma to serve me the worst 2015 I could possibly have." And while it wasn't that bad, all things considered–my girlfriend, family, and friends are all fine–it has been exhausting. This has been a year against which others will stand.
Similarly, last year I was amazed at the sheer amount of great metal that I found out there. But 2015 has been rough. There's been a lot of metal, but only a few gems. But those moments of beauty definitely stood out among all the drek, so here's a short list of them. These are the albums that have kept me going through what has been a trying year.
Good luck in 2016, guys. I don't know about you, but I feel like we're going to need it.
15. blackQueen – The Directress (Independent)
The many genre labels one could apply to blackQueen's latest do them no justice. What matters is that this mixture of stoner doom, atmospheric black metal, crust and thrash is incredibly fun to listen to, and has a far-out depth to it that many albums only play at. An underground gem out of nowhere from a band with massive potential.
14. Walking Corpse Syndrome – Human Delusion (Independent)
If you're been reading my output on this blog in 2015, you know my thoughts on this band. Walking Corpse Syndrome slay out loud with that good ol' head-down overwhelming apocalyptic death metal attitude that you might have thought died in 2006. Large metal labels, sign this band; you'll be very happy together.
13. Ensiferum – One Man Army(Metal Blade Records)
I know what you're thinking, because I'm thinking it too: how the fuck is an Ensiferum record in my best-of list for 2015? But One Man Army's complete cessation to its own cinematic fantasy movie madness makes it to the perfect metal soundtrack to doing pretty much anything and everything. If there's ever a moment where you're having a shit say and just need to imagine yourself lopping off a head, throw this gem on.
12. Sigh – Graveward (Candlelight Records)
On a notably morbid tip this time around, Japan's resident black metal weirdoes hoist their freak flag high. And while Graveward may not be the immediate peyote trip that its predecessor In Somniphobia was, its spooky and fantastical tendencies, along with Mirai's inimitable songwriting chops, make it a must-listen for fans of the bizarre. Not to be listened to on mind-altering substances, unless you know how to party.
11. Frosthelm – The Endless Winter (Black Work)
Rarely do titles so perfectly match the albums they represent. Frosthelm's 2015 release is as cold and fierce as a shiv made of frozen blood, providing blackened thrash (or is it thrashy black metal?) with no frills and ample force. Whether it's during a black magic ritual or a windows-down car ride around the neighborhood, The Endless Winter is a diabolical treat.
10. Enforcer – From Beyond(Nuclear Blast)
Sometimes, you don't want a shining example of a specific subgenre, you just want a heavy metal band playing an awesome heavy metal record. And that's what Enforcer have done this year—made a fast, fun, heavy rotation heavy metal classic, full of all the leather and electricity and horror references that lies at the core of good ol' fashioned headbanger music.
9. Vampire – Cimmerian Shade EP (Century Media)
This four-song EP (technically three songs and a transition track) by Sweden's current thrash kings does more than bite, rend, and tear. Cimmerian brings tons of creepy atmosphere and dark lore to Vampire's sound, elevating them beyond simple fist-pumping death-thrash. Opener "Pyre of the Harvest Queen" is overflowing with Halloween spirit, but doesn't possess an ounce of irony or silly spookiness. An inspiring and unusual entry from one of the best new thrash bands out there today.
8. Bonehunter – Evil Triumphs Again (Hell's Headbangers)
Sometimes, an album just speaks to people, and it says, Hey, dicks, wanna smash shit up? That's the vibe on Evil Triumphs Again, an unbridled blast of evil toxic thrash. The production, the aggression, everything about this album is just cool as Hell without ever seeming too cheesy ('too' being an important qualifier). This is the music you hear as you walk into a post-apocalyptic nightclub straight out of Heavy Metal Magazine.
7. Black Fast – Terms of Surrender (eOne Music)
Forsaking pizza and booze gags for pure acerbic bile, Terms of Surrender takes all the best parts of the thrash revival for a nuanced ride, and the result is just kickass. Every song contains a surprisingly wonky riff that reminds one of the moment just before funk metal, when bands were still going full-blast but getting weirder. I'm already excited to hear what's next for this band.
6. Exgenesis – Aphotic Veil (Rain Without End)
Lots of bands talk about the cosmos these days, but few sound like them. This Swedish/Colombian blackened doom metal duo has nailed it, though. Aphotic Veil is a vast, thoughtful album, that resonates both with feelings of cold detachment and unstoppable emotion. An incredible piece of eerie music from an unexpected combination of genres and locales.
5. High on Fire – Luminiferous (eOne Music)
High on Fire's track record is unbeatable. Every album is a goddamn treat to listen to, and Luminiferous is no different, this time fueled by the hard edges of Matt Pike's newfound sobriety. Subsequently, the songs here are fueled by a sense of urgency and momentum that won't let up, so that ever the slower moments blast the listener directly in the face. Focused and driven, this record is shining example of where stoner metal needs to go to survive—somewhere faster, louder, meaner, and teeming with riffs.
4. Clutch – Psychic Warfare (Weathermaker Music)
Given the power and hype surrounding 2013's Earth Rocker, Clutch could've easily churned out the same album under a different title. Instead, Psychic Warfare is a leaner and meaner beast, the biker boom following the Summer of Love. Mixed up with tons of go-go groove and backwoods mythology, Warfare channels the darker, more introspective side of the band's heart that was no doubt unleashed by two years of nonstop touring. Quick, hard, and full of beans, this is a record not to be fucked with.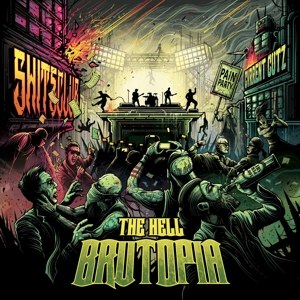 3. The Hell – Brutopia (Prosthetic Records)
Don't let yourself get distracted by over-talkative issue mongers and stand-for-nothing cynics–we're all fucking dickheads, and we all live in Hell. That is the primary message of The Hell's sneering sophomore masterpiece, an album that's both hilarious and heated in its confrontation of every asshole on earth, from politicians to night club doormen to tech metal fans. That the whole thing is served up in glorious thick British accents only further thrusts a two-finger salute towards the world at large.
2. Satan's Wrath – Die Evil (Metal Blade)
Die Evil is not a dreamscape of effortlessly-rippling textures or hints of powder and rust. This is metal at its most stubborn, rabid, and indulgent. Its influences are all present, but to compare them to it implies that it apes them, which is false—this album is the spawn of metal's long history, the son of a thousand maniacs. Mix the many aspects of the genre together, burn off the irony and subtext, boil down the remaining parts into a poisonous black goo, and there it is, Die Evil, a record that makes you want to wear a bulletbelt to a cemetery just for the fun of it.
1. Tau Cross – Tau Cross (Relapse Records)
We all knew this collaboration between Amebix's The Baron and Voivod's Away was going to be good. But we had no clue just how good–how eerie and riffy and satisfying this slab of chugging occult metal-punk was going to turn out. On every one of its twelve tracks, Tau Cross offers a delicious dose of tangible witchcraft that will appeal to all those who find beauty in simple shadow and dark passion. It is equal parts raging bonfire in the night and swirling browned leaves outside of the old barn. It is an ivy growing out of metal's weathered heart, its thorns dripping with black magic and rancor as it chokes the life out of the dying year.
Sponsored Links from Across the Internet
Show Comments