Reign in Blood Turns 30: Ten Myths and Misconceptions about Slayer's Thrash Classic Dismantled
Slayer's Reign in Blood turns 30 today, Friday, October 7. (That's a birthday, not an "anniversary," by the way.)
The influential disc crystalized thrash, redefined metal drumming, heralded death metal, and sparked the crossover movement. It still stands as a golden example of what can be accomplished by four guys in a room, playing their asses off — no computerized trickeration necessary. Reign is the quintessential thrash release, and it might be the best thrash album.
What's the best thrash album? It's a stiff competition. Spin magazine, while not a fount of metal wisdom, nailed it when Joe Gross called Reign "the thrashiest thrash ever" in 2007. Metallica's epic Master of Puppets is not an incorrect answer. Released seven months earlier, Master is a metal cathedral filled with vast, expansive, vicious, and beautiful moments. But Reign is a full-tilt slaughterhouse dripping with blood, guts, vengeance, and 666 manifestations of evil, from historical witch trials to the Nazi Holocaust. Master has two fewer tracks and runs almost twice as long. From Megadeth to Dark Angel, other thrash classics have their own qualities. But compared to them all, Reign hits you faster, harder, and more.
Released in 2008, my book "Slayer's Reign in Blood" is part of the high-profile 33 1/3 series from Bloomsbury Publishing. Each installment is about a different classic album, from the Beach Boys to the Beastie Boys. Reign's unimpeachable cred and immaculate pedigree made it a natural choice to be the series' first true metal record. To tell the stories behind Reign's creation and legacy, I interviewed the entire band (including the late, great Jeff Hanneman), producer Rick Rubin, engineer Andy Wallace (Nirvana, Guns N Roses), unlikely label partner Russell Simmons, and dozens of other associates and fans.
The process was an education. As a lifelong Slayer fan, I still had plenty of questions about the band, their interpersonal dynamics, their creative process, and how in the blue hell they wound up signing to the Def Jam label, home of the Beastie Boys and Public Enemy. And, as it turned out, I was totally wrong about some ideas I had believed for 25 years. During my research for the book, I also let fans tell me what they wanted to know about the classic album. What follows is a list of ten of the biggest myths and misconceptions about Reign in Blood. And if you want to know the full story of the So-Cal thrash heroes signing to New York City's red-hot rap label and growing into hesher legends, check out my books.
1. Myth: Super producer Rick Rubin made Slayer's songs shorter
Fact: Slayer's 1985 album Hell Awaits runs 37 minutes and features seven songs. Reign includes ten songs and runs just 29 minutes.
Many fans reasonably assume credit the shorter songs should go to Rick Rubin. The genre-spanning hero producer always had a gift for brining out the pop edge in artists' material, from Run-DMC to Johnny Cash. (Thirty years later, he has worked with around 10% of the Rock and Roll Hall of Fame and Museum's inductee groups, including Metallica.)
But Slayer had already written the music for the leaner tunes before Rubin arrived in California, looking to sign the band, who he saw play in New York City. At the time, the ten tracks were sequenced and ran 33 minutes, but the lyrics were not complete.
2. Myth: "Angel of Death" glorifies the Nazi Holocaust
Fact: "Angel of Death" is about some of the more graphic atrocities that took place in the World War II Holocaust. At death camps, Nazis used industrial means to exterminate six million Jews, in addition to millions more victims, from homosexuals to political dissidents. The song depicts the horrors of Nazi physician Josef Mengele, whose sadistic experiments crossed the line into torture. Over the years, critics have slammed the song for allegedly glorifying the Germans. And Slayer definitely tap assorted imagery from the Third Reich. But, in fact, this song contains negative references like "rancid Angel of Death," and "sickening ways to achieve the Holocaust."
As Hanneman explained to me, "Writing that, I wasn't going to state the obvious. That's like talking down to whoever's reading it. I think they know he's a bad guy. I don't have to say, "Angel of Death / Bad guy.' That would be stupid."
3. Myth: The singer wrote the lyrics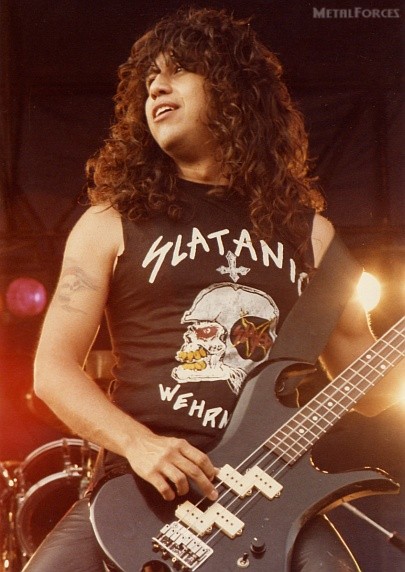 Fact: Many music fans assume a band's singer writes the lyrics. And they usually do. But many of rock's great frontmen sing songs written by the band. By Slayer's third full-length album, frontman Tom Araya had just one writing credit. On Reign, guitarists Kerry King and Hanneman wrote all the words and music — which is no way minimizes Araya's classic contributions as an innovative metal vocalist.
(Araya penned more songs as their career continued. He wrote and co-wrote the lyrics to the band's two Grammy Award-winning songs, "Eyes of the Insane" and "The Final Six.")
Reign in Blood credits, 1986 (Def Jam)
"Angel of Death." Lyrics and music: Hanneman.
"Piece by Piece." Lyrics and music: King.
"Necrophobic." Lyrics and music: Hanneman and King.
"Altar of Sacrifice." Lyrics: King. Music: Hanneman.
"Jesus Saves." Lyrics: King. Music: Hanneman and King.
"Criminally Insane." Lyrics and music: Hanneman and King.
"Reborn." Lyrics: King. Music: Hanneman.
"Epidemic." Lyrics: King. Music: Hanneman and King.
"Postmortem." Lyrics and music: Hanneman.
"Raining Blood." Lyrics: Hanneman and King. Music: Hanneman.
4. Myth: The drummer wrote all the best drum parts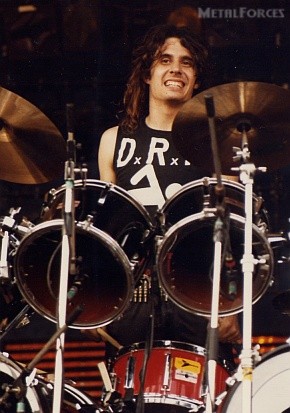 Fact: As with singer Tom Araya, you can't overstate the importance and innovation of what drummer Dave Lombardo brought to this groundbreaking record. In addition to its relentless drum attack, the album features three spotlight percussion moments: the double bass break in "Angel of Death," where Lombardo connects 28 times in two seconds, which is literally faster than an uzi firing. "Criminally Insane" starts with a funky cymbal-ride intro. And the deceptively simple thud-thud-thud intro to "Rainging Blood" warns listeners and crowds that all hell is about to break loose.
But the last two percussion moments were written by Hanneman. The "Criminally Insane" intro sounds promising but primitive on the instrumental demos Hanneman recorded with a drum machine. In fact, Lombardo's performance probably warrants a co-write credit. But they began with the guitarist.
5. Myth: Rap label Def Jam didn't influence the band's sound
Fact: Understandably, metal fans were nervous when they heard Rick Rubin had signed the thrash titans to his record company, Def Jam, which was the world's biggest rap label, and had major-label distribution.
To our relief, Slayer didn't tease out their hair, write a soft radio single, or let the rap culture influence their sound… mostly. Hip-hop didn't influence the album, but it did lead to an experimental B-side. In 1980s metal, "remix" usually meant "the drums are louder on this version." For the "Criminally Insane" single B-side, Rubin conceived a true remix of "Criminally Insane" that was influenced by hip-hop technology: Lombardo played his drum sounds onto sampler, then played the electronic drums live, producing a hybrid remix with extra howling lead guitar by Hanneman.
6. Myth: Reign in Blood was a bestseller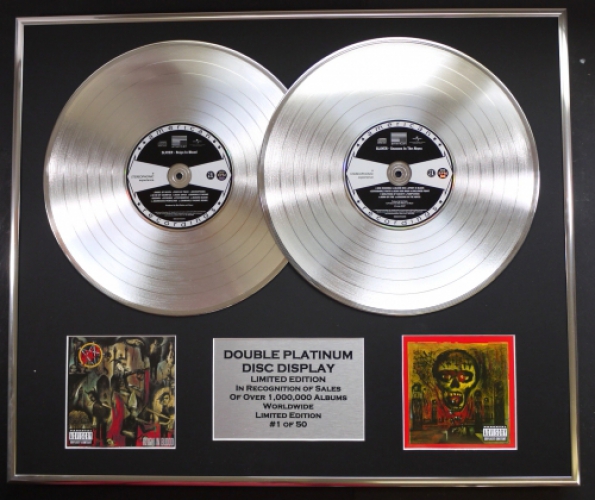 Fact: In the shady world of the music business, sales figures are always questionable. Even platinum and gold certification, the industry-standard metrics for sales success, measure the amount of discs shipped, not sold.
Reign in Blood barely cracked the Billboard top 100 album chart. It was certified gold — denoting 500,000 copies shipped — in 1992. By comparison, look at the other thrash landmarks from 1986: Metallica's Master of Puppets was certified platinum in 1988, and is now certified six-times platinum, signifying 6 million copies moved. Unlike Master and Reign, Megadeth's Peace Sells had a video in MTV rotation. It was certified gold in 1988 and platinum and 1992. Anthrax's 1987 Among the Living went gold in 1990. So does that mean Reign hasn't sold a million or more copies?
Probably not. Slayer's longtime manager Rick Sales told me the disc is at least platinum — but the band has switched distributors so many times, it's hard to centralize sales numbers. Platinum status is not a public service; bands and record companies have to pay for each certification. And, most significantly, Slayer isn't the kind of band that cares about being certified platinum.
7. Myth: Jeff called the shots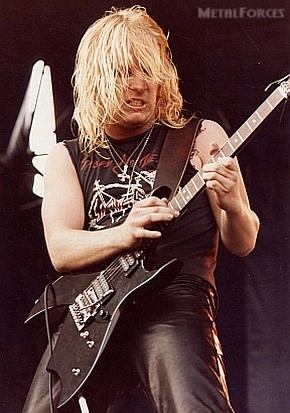 Fact: Reign began with Jeff's ideas and demos. His lyrics and music are the heart of the album. But the record represents Hanneman and King's most even collaboration. And when the crew entered the studio, everyone had relatively even input. No one member quarterbacked or dictated the album's direction. The band could even convince Rubin his firm ideas weren't necessarily right — although getting the producer to change his mind required some firm negotiation.
8. Myth: The band must have been totally high to make that kind of seminal speed metal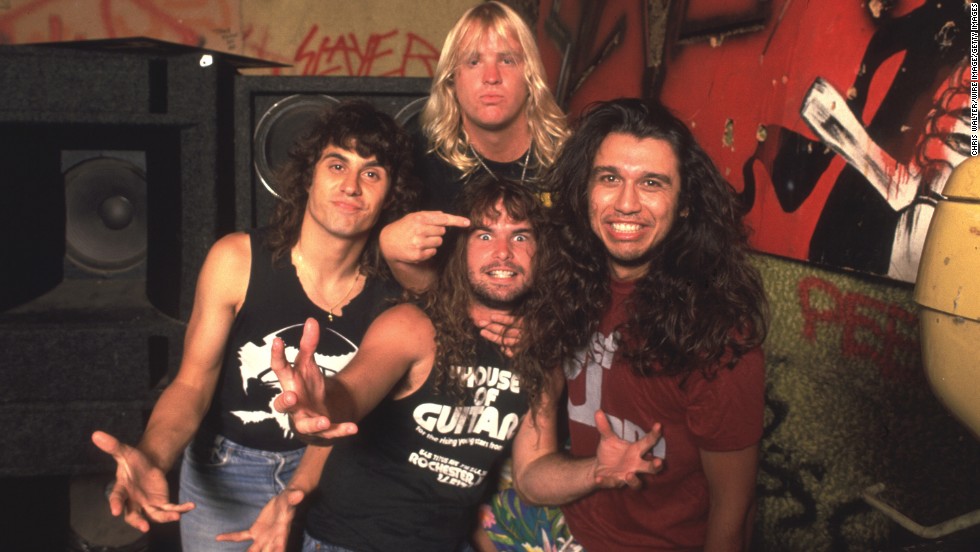 Fact: Araya has frankly discussed using cocaine in the mid-80s. And Hell Awaits' "Praise of Death, written by Hanneman, includes a reference to crank, aka crystal meth. Lombardo also partied hard. And during live footage from the time, the band seem very, ahem, excited. But King was grew up essentially straight-edge, and he didn't even drink until he turned 21, in 1985. Rubin also famously lived a very clean, substance-free lifestyle. When it was time to record the album, all the rocket fuel stayed outside the studio. If Lombardo looked tired, the team fed him Gatorade and sugary candy. These were primitive times; imagine what the record might have sounded like if the drummer had access to Monster Energy.
9. Myth: The album cover was an instant classic
Fact: The Reign cover, painted by serious political illustrator Lawrence "Larry" Carroll, looks like a legit museum piece. All this time later, it's clearly a classic. At the time, though, Slayer didn't like it. The standard for metal album art was cartoony hellfire art like Exodus's Bonded by Blood.
"Nobody in the band wanted that cover," King told Metal Hammer in 1987. "We were stuck with it. Some warped demented freak came up with the cover."
But they warmed up to it. The original art is one of the few pieces that Kerry King didn't absorb into his extensive personal collection. But that's another story.
Bonded:
Reign:
Carroll political art, still pretty metal:
10. Myth: Reign in Blood made Slayer stars
Fact: Slayer were thrash heroes. But stars? Not exactly.
Slayer headlined shows on the Reign in Blood and South of Heaven tours. But they generally played smaller venues like Harpo's in Detroit (capacity: 2,000) and, later, New York City's Felt Forum at Madison Square Garden (capacity: 5,000; now The Theater). [On the South of Heaven tour, I saw them play a jam-packed roller rink.]
The group didn't headline theaters consistently until it was time to support 1990's Seasons in the Abyss. It took the 1990-91 Clash of the Titans tour, co-starring Anthrax and Megadeth, to get Slayer into arenas consistently
The Reign tour was a triumph, but it wasn't exactly a victory lap. The band co-existed harmoniously through recording the album. But once they hit the road, tensions were high, and Lombardo left the band midway through the tour, only to return later. (For full details on that recurring scenario, read my full Slayer biography, "Slayer 66 & 2/3: The Jeff and Dave Years….")
D.X. Ferris is the author of 33 1/3: Reign in Blood and 66 2/3: The Jeff & Dave Years…, which are available in paperback and on the free Kindle e-book app, which runs on most phones, tablets, and PCs. His comic strip, Suburban Metal Dad, runs every Friday and Monday. You can friend him on the Facebook, or follow his bullshit daily on the Twitter: @dxferris and @SlayerBook. 
Sponsored Links from Across the Internet
Show Comments