Necessary Roughness Week 17: THE PLAYOFFS ARE HERE!
New Year's Day only brought a handful of noteworthy games, and since I was too disgustingly hungover to do this post last week, let's take a broader look at the playoff picture and personnel decisions around the league.
In the AFC, New England is the number one seed and the clear favorite. I was hoping the Jamie Collins trade was gonna blow up in their smug faces, but they're dominating both sides of the ball with nearly identical ferocity. They slapped the Dolphins around basically for no reason other than to remind them what they have coming in two weeks' time should Miami somehow upset the Steelers.
Michael Floyd with the nasty block! ???? #NEvsMIA pic.twitter.com/T4yIJkrfUo

— Dylan (@DylansFreshTake) January 1, 2017
Here's an interesting stat: in their last 28 games the Chiefs are 23-5! What?! With Derek Carr out of the picture it looks like the Raiders will be soon as well. In hindsight it would have been an injustice if the Raiders took the AFC West. The Chiefs went 6-0 in division, which is probably the toughest in the league this year. I do love the inevitable goofy ass Andy Reid gifs that always end a winning season in KC.
Mood in #ChiefsKingdom

Nice hat(s), Coach. pic.twitter.com/g2JfCo1UXw

— Z-Kansas City Chiefs (@Chiefs) January 2, 2017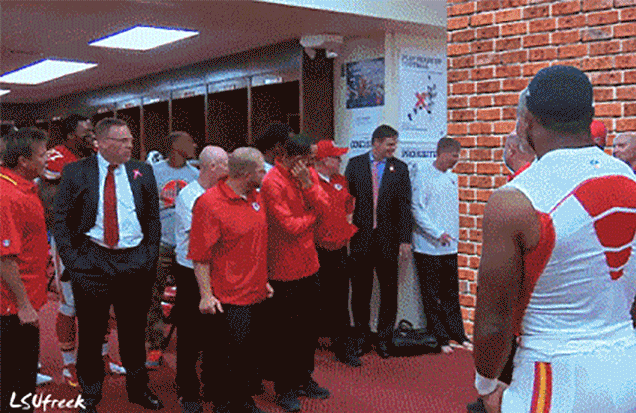 The rest of the pack in the AFC looks relatively helpless against these two. The Steelers are always a threat but a Derek Carr-less Raiders, a Ryan Tannehill-free Dolphins and a Texans team who is fully stocked on garbage QBs don't really inspire a whole hell of a lot of confidence. The Broncos obviously proved last year that QB isn't *everything* but it didn't hurt that they had an all-time great defense to bail out Peyton goddamn Manning.
The NFC is a lot tighter in my opinion. The Cowboys rolled over in Philly, letting old man Romo get a few reps in before turning the keys over to the Sanchize. While everyone is shitting on Mark Sanchez, let's all remember that he's been to two Conference Championships. Romo and Dak have been to zero. Still… how do you take three sacks behind that O-Line? Tony Romo looked good in his limited action and the 'Boys should feel #blessed that they have two fantastic options at QB. I will say that post-game Tony still seems pretty sour about the situation. He should hit up Drew Bledsoe about how to cope with it.
Despite putting up an absurd amount of points this season, I don't think the Falcons are nearly as strong a #2 as the Chiefs are. Their offense is insane. That's about it. If I were a Falcons fan, I'd be hoping for Seattle to come to town. Without Earl Thomas and offensive problems of their own, they might be the most beatable team the Falcons could come across.
In the wildcard round, we see a familiar scenario… the white hot Packers will host a Giants team with a beastly defense and an OK offense. This is the game I'm looking forward to the most, my Giants fandom aside. It's the only one of the four games that seems even remotely evenly matched. I'm calling it now, whoever wins this one takes it to the NFC Championship game.
I don't really revel in Black Monday firings like some of my favorite writers, but let's take a look at who's out anyway.
Mike McCoy – two winning records and two losing records. Peace out, dude. Whoever fills this vacancy should have everything they need to succeed: shit hot rookie RB, very good veteran QB, Joey goddamn Bosa… The only problem is they play in the AFC West with three other playoff contending teams. Can we move the Chargers to the AFC South so they can teach the other teams how to play?
Chip Kelly – I'm personally still hoping he ends up on a new team that can actually run the crazy ass Oregon style of offense. I don't know if it's even possible in the NFL with the level of talent being as high as it is compared to the NCAA, but for fuck's sake the dude had one season, zero QBs and half the defense retired over the last two years.
Jeff Fischer – Can we be done watching Fischer-run teams? Can someone invoke the Rooney Rule as a more than legitimate reason for him to never coach in the NFL again?
Gus Bradley – Jeeeeeez Shad Khan is a cold sonofabitch. At least let the dude get home from his last loss before you give him the axe! The Jags were supposed to be a force to be reckoned with for the last two years and completely failed on every level. Hopefully whoever replaces him can either re-teach Bortles how to throw to his INCREDIBLE receiving corps, or get someone in there who can. As much as I love all their garbage time stats for fantasy, it would be cool if someone could just kick the shit outta the Colts and Texans for a change. I hate the AFC South, have I made this clear enough?
Rob Ryan's Shit Kickin' Jam Of The Week
Rex and Rob Ryan were sent packing ahead of this week's game. Rex must have been a brutal pain in the ass up there. To only give a coach two seasons with the roster they had seemed a little premature. But then again, the Bills only know dysfunction.
While I think they must be bummed, this gives the Ryan boys at least a couple good weeks of partying. In their honor, I give you Elton John's heaviest song – Funeral For A Friend. Next time one of your buddies gets fired and he needs a pick-me-up, go ahead and get yourself a case of High Life, a 3-pack of Philly Blunts and get to business.
I'll be writing this from the road next week, on tour with #12. See you on the west coast! Also, apologies to Reaping, I'm not gonna pretend I'm sad Washington didn't make it (because of the Giants, natch), but I'd rather watch them than the Lions and it will be a slightly less crazy playoffs without 'em.
Sponsored Links from Across the Internet
Show Comments