Nothing Sucks More: Emperor Rhombus' Top Fifteen Metal Albums Of 2018

Make no mistake, 2018 was really good to me. Got married. Got a job. Wrote some of the best material of my career. Connected with my family. Figured out what I want to do with my life. So overall, I'm glad 2018 happened, and I'll always have a special place in my heart for it.
That said, man, a resounding fuck this year is in order. Not just because 2018 was bad, but because it feels like it's gone on forEVER. For the past twelve months, every headline has read anxiety and despair, every season bore down on us with exhausting severity, and everyone who could publicly make a stunning dickhole of themselves chose to do just that. All of that good shit I mentioned above just made this year shitty AND busy. So let's cut this snickering bitch's head off and start over with the fresh blanket of newfallen snow that is a new year, so at least then we can see who's pissing in it. Jesus.
But seriously, fuck all of you and your relatives. Here are the fifteen albums that somehow kept me afloat during this gauntlet of facepalms.
15. Baneful Storm 
– 
Invocations (Invictus Productions)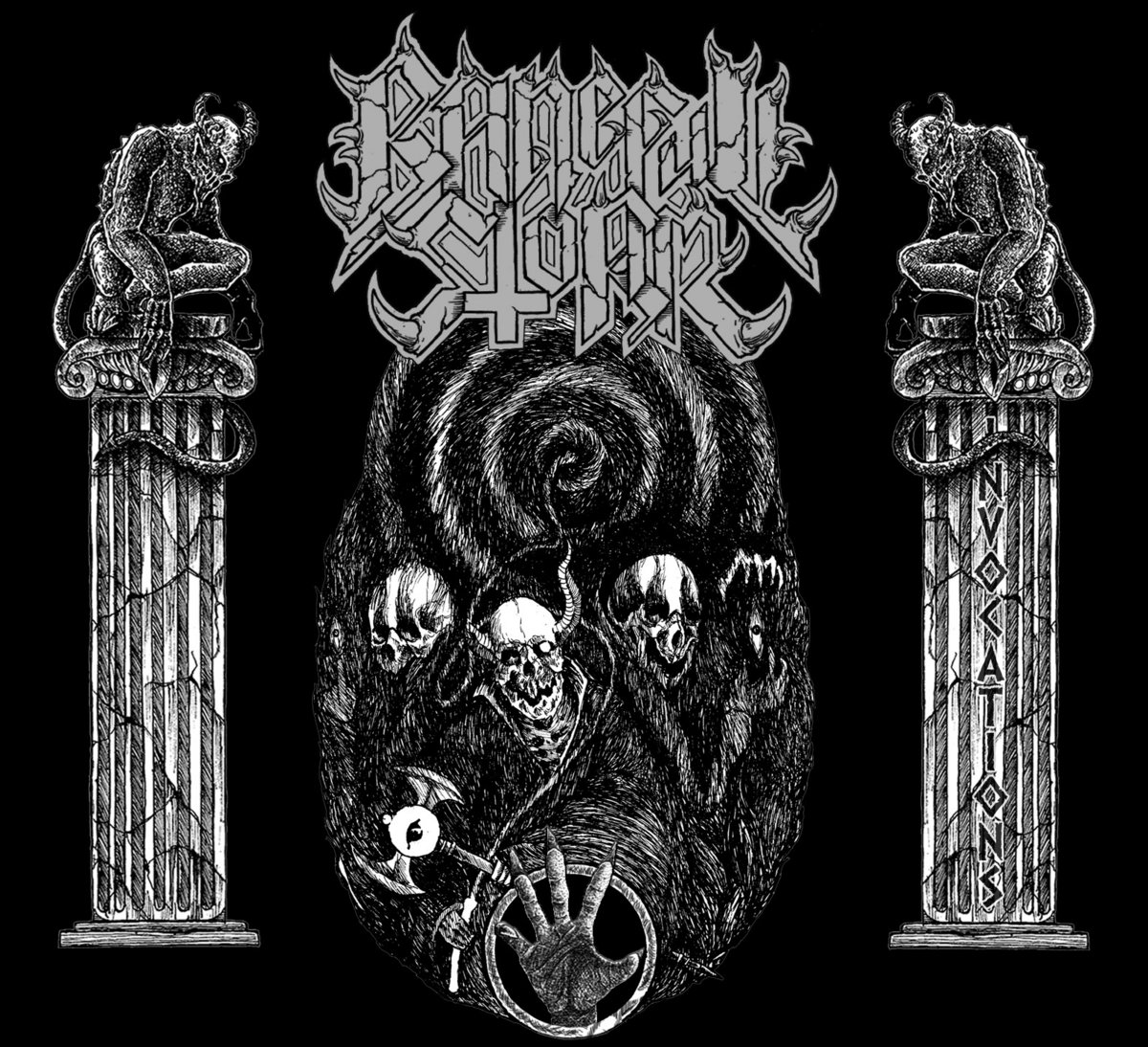 With clammy ugliness, total horror, and utilizing a musical technique reminiscent of Morbid Angel and Hellhammer that I can only describe as a guitar tornado, France's Baneful Storm slid into the fifteenth spot on my list with their (his) brilliant debut album. When other bands talk about an "old-school" sound, they usually go with "predictable and slow," but THIS is what they're trying to get at–something unique and frenzied, with plenty of black magic menace and salt in its wounds. Just an awesome album to listen to.
14. Eagle Twin — The Thundering Heard (Southern Lord)
Imagine Tom Waits fronted an Arkansas sludge band playing folk legends as metal songs, and you have some idea of what Eagle Twin's The Thundering Heard sounds like. The band's sound is elaborate and primal, but also has the sort of old-timey familiarity that comes from Davey Crockett and The Goon. There is nothing inorganic or plastic about this album; it comes paneled in scratched wood, wet with beer, adorned in antlers. A pothead's dream of the drunken wilderness.
13. VHS — The New Batch (Independent)
Junky, low to the ground, and all about horror movies–the new album by Ontario's VHS sounds like it was made for me. Full of all the fast, loose, sticky horror metal anyone could ever ask for, The New Batch looms and lumbers with all the questionably-assembled grace of an animatronic Halloween decoration. The album uses the reliable elements of both Napalm Death (mostly short songs, slow riffs between the speedy ones) and Autopsy (a clunky balance in the mix, straightforward horror fantasy) to create a slab of unpredictable yet reliable death metal mayhem. A necessary entry into every gore-fiend's collection.
12. Gama Bomb — Speed Between the Lines (AFM Records)
It feels like lately, many of the thrash revivalists have been writing some of their best albums in years. Last year, it was Warbringer, but this year it's Irish goofballs Gama Bomb, who put out a killer collection of weirdo reference thrash that's hands-down more fun to listen to than most of the other records that came out in 2018. Tracks like "Give Me Leather," "666Teen," and "Motorgeist" sound like the metal songs I hear in my dreams, only better, more interesting, carefully crafted even when they're about Kurt Russel. Yeah, I didn't expect it either, but here I am listening to the new Gama Bomb and loving every second.
11. Deadbird — III: The Forest Within the Tree (20 Buck Spin)
It's a good sign when you release your first album in a decade and it's this fucking good. The return of Arkansas' Deadbird was much lauded, but the proof is in the pudding, and III: The Forest Within the Tree is a loud fuckin' statement that the band's still got it. Brimming with groaning riffs, field holler vocals, and a healthy dose of spooky backwoods atmosphere, Deadbird's latest showcases just how much the band believes in their music, and in maintaining the integrity of the Arkansas sound. This shit makes you want to go naked in the woods, get raked by some stickerbushes, worship a dead fuckin' raccoon.
10. Clutch — The Book of Bad Decisions (Weathermaker)
As I mentioned in my MetalSucks review, Clutch yanked the wheel hard to one side on this album, and it sounds great. While Earth Rocker was joyous and Psychic Warfare was edgy, Bad Decisions sees Clutch with a cloud of gnats around them that they can't seem to shake, and maybe a little bit of a nasty hangover still hanging around them. Even upbeats songs like "In Walks Barbarella" and "Gimme the Keys" sound tobacco-stained and anxious, while "Spirit Of '76," "Emily Dickinson," and the title track are southern gothic funeral hymns that smell a little like hops and sweat.
9. High on Fire — Electric Messiah (eOne)
As Matt Pike travels deeper into the caffeinated wasteland of sobriety, so his fans reap the benefits. Electric Messiah sees a furious incarnation of High On Fire breaking down doors and kicking over tables in homage to Lemmy. The slowest fans get this time around are stompers like "Sanctioned Annihilation" and "Drowning Dog," while "Spawn Of The Earth" and "Freebooter" see the band going faster than they ever have before. How many incredible records can one band make in a row? Let's find out.
8. Carnation — Chapel of Abhorrence (SoM)
Here's an idea, what about a truly great old-school death metal album? And what if instead of laying on a ton of fuzz or effects to sound like Scott Burns produced it, it just had aweome riffs, killer songs, and a lot of fun, earnest energy? What if it blows the pants off of every album you've been told is THE death metal album of the year, and is actually fun to roll around to with your windows down? Wouldn't that be something?
7. Nekrofilth — Worm Ritual (Hell's Headbangers)
There's so much more to Nekrofilth's second full-length album than its cover, so let's cover that. Let's talk about the record's frantic sense of body horror, and its mixture of disgusto themes with tangible sonic revulsion. Let's talk about how the band has pulled out the stops since 2013's Devil's Breath, going all-in on their ur-death metal sound. And we can't forget to mention the raw, glorious sleaze of tracks like "Vomit Dog," "Night of the Leech," the title track, and the amazing rendition of Venom's "Poison." And then, when all that's done, we can talk about THAT MOTHERFUCKING COVER.
6. Slasher Dave — Frights (20 Buck Spin)
If any album summed up Halloween 2018, it was Frights, the latest synthwave/horror soundtrack album by Acid Witch frontman Slasher Dave. But this time around, Dave went a little heavier on the rock influences and atmospherics, making Frights a more metallic and gruesome record than his previous releases. There's an emphasized immersion in the songs, too, as though they're aware they exist in the year of a new Michael Myers movie. The perfect soundtrack to the haunted house I start building in my heart around the end of July.
5. Uada — Cult of a Dying Sun (Eisenwald)
Seeing as their debut album Devoid Of Light was my 2016 Metal Album of the Year, I wasn't surprised to discover that the bands sophomore effort found its way onto this year's list. Exuding fog, sorrow, and a clammy sense of dominance throughout, Cult is the rare animal of a black metal band that will get stuck in your head. Uada's tempering of elemental progressiveness and old-school darkness continues to make them one of the leading bands in their genre, and thus far they have a flawless record.
4. Rebel Wizard — Voluptuous Worship of Rapture and Response (Prosthetic)
It seems like on its second full-length album, Australia's Rebel Wizard has refined and perfected its brand of negative wizard metal. While the verbosely-titled tunes on Voluptuous Worship contain all the lightning bolt guitars and sandblasting vocals of the band's previous work, the use of lush solos and infectious rhythms takes its sound to a more magical place. As such, the record is both engaging and incredibly entertaining, and will provide listeners with as much fun as gargling a thick load of unicorn semen.
3. Khemmis — Desolation (20 Buck Spin)
Following up two of doom metal's more critically acclaimed albums of the past ten years, Khemmis's Desolation sounds like a religion that has finally established itself enough to hold a proper witch burning. The choruses are more massive, serpentine guitar harmonies sound more sure of themselves, and the whole album grinds with a sense of maturity and confidence. While tracks like "Bloodletting" and "Isolation" are the album's "singles," B-sides like "The Seer" and "Maw Of Time" provide the listener with a satisfying revel in the esoteric and spiritual. A truly stunning album by a band that has finally perfected its sound.
2. Scumpulse — Rotten (Gore House Productions)
Jaunty melodic death-grind? Hand-jivecore? How to describe the music on Scumpulse's debut album? The Scottish quartet uses death metal as a base, and then incorporate the blast and politics of grindcore, the melodic guitar harmonies of classic heavy metal, and the ADHD bounce and suburban humor of late '90s punk rock, not to mention dashes of black metal and stoner rock tossed in along the way. The result is absolutely captivating, with every track making you want to bob in your scene or twiddle your index finger like a drumstick next to your head. One of the most fun albums I've heard in years.
1. Sleep — The Sciences (Third Man Records)
Where to begin. The Sciences' release makes me think of someone being present at the hatching of an animal so that it imprints on them. By surprise-dropping their album on 4/20 of this year, Sleep made sure everyone heard their music while high as hell, just as Iommi intended. As such, the throbbing, planetary boom of The Sciences will forever be imbued with all the dopey echolocation that came with listening to it that first befuddled time. And while every other album this year tried to be everything to everyone, Sleep created a record that existed within its own earnest, specific realm: that of the stoned metalhead, the dirtbag artist with a vast sense of scope and burn holes in the collar of his shirt. It is a pure expression of stoner metal, a tribute to the gods you can only hear while so high that nothing else makes sense.
Sponsored Links from Across the Internet
Show Comments