Necessary Roughness, Week 9: The Patriots Lose!
Yesterday I ran my first ever half marathon – the City of Oaks Half in Raleigh, NC. Going into it, it seemed like this all-consuming activity. I had trained on and off for months and it was on the forefront of my mind for equally as long. It was definitely one of the hardest things I've ever done physically, and I'm so happy to have done it. But, what was most remarkable about the day itself was how fucking long it was! I ran with my sister and brother in law and we were up at 5:30am to prep, the race started at 7:00am and we finished around 9:00am. By 10:15am I was a couple beers deep and we were ordering barbecue. Because no one else orders BBQ at 10:15am, it was delivered only 15 minutes later. Most days, I feel like I'm scrambling to get the bare minimum done for my job, bands, girlfriend and house and here we were having completed a race, drank beers and eaten pounds of smoked meat and yet we still had two plus hours to kill until football started. The flip side is that I slept through like 40% of the football I watched. Is this what it is to be a dad? [Editor's note: Yes.]
When football FINALLY came on, we were treated to a bunch of great upsets (and a couple shitty ones — looking at you, Indy!). I realize in my post last week that I kinda viewed each division as more or less locked in. While that's definitely the case for a handful of them, I do believe more are in play than I realized. The NFC North, AFC South, NFC West (and dare I say, the AFC East??) could all see late season shakeups.
Chiefs 26 – Vikings 23: Holy shit what a great game! What started as a low scoring snooze-fest turned out to be the shootout everyone was begging for. Like last week, this performance cements Andy Reid as one of the greatest offensive minds in football. To be able to wring this much production out of retired-ass Matt Moore is incredible. It doesn't hurt to have Tyreek Hill making Madden plays all over the field…
…Fuck! It doesn't look like he's even running that hard to catch his own dude! On the other side of the coin, I will never understand why the Vikings insist on passing on the first play of any series when you have the league's best rusher in the backfield. It feels like they're only outsmarting themselves by not relying on what is proven to work, especially early in a game.
Chargers 26 – Packers 11: The Chargers are the perfect trap game for 2019. Last season's 12-4 record seems like a decade ago, but the vast majority of that teams is still on this roster. Nick Bosa and Melvin Ingram looked like absolute monsters against an overmatched Green Bay O-line. The halftime show for this game focused entirely on how "you just know Aaron Rodgers is gonna put this team in a position to win at some point," and yet he never really did. He seemed shook for most of the game – for Satan's sake the Packers offense only managed 50 yards in the first half. Melvin Gordon and Austin Ekeler finally looked like the rushing attack they're supposed to be. I doubt the Chargers can turn it around in time to save this season, but at least they can be fun to watch.
Ravens 37 – Patriots 20: Finally, the Pats have been exposed! Last week I wrote that the Browns were, shockingly, able to run over the Pats interior and if it weren't for their putrid opening may have given New England a run for their money. The Ravens are not the Browns. They have a brutal ground game and stuffed Mark Ingram and Lamar Jackson down the Patriots' throats. My favorite part of this game was at halftime when John Harbaugh was asked what the Ravens needed to do in the second half to succeed. His reply was something along the lines of "we need to fix mistakes, nothing the Patriots are doing concerns us." More often than not I feel like Belichik mindfucks his opponents into beating themselves.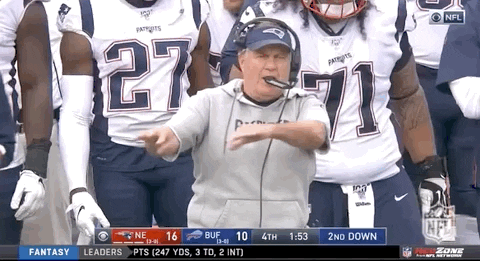 I, like everyone else, think Lamar Jackson is just incredible. I don't think he gets the credit he deserves for the throws he makes because his ability to run overshadows it and rightly so! I had no idea he was on pace to break Michael Vick's single season rushing record for QBs. If you're as old as I am, you remember how insane the hype around Vick was before he went and electrocuted a bunch of dogs. The Pats still have to be the favorites in the AFC, but after a really amazing performance by the Mahomes-less Chiefs, the conference suddenly seems more open than it has all season.
Fantasy Pimp of the Week: Tyler Lockett! 13 catches for 152 yards and two TDs! I spent the day watching these game with my brother in law and he just happens to have Tyler Lockett starting on his fantasy team. I've been saying that the Seahawks are really scary and they don't even have real WR1, but I think Lockett shut me up. The addition of Josh Gordon will take pressure off Lockett and give him even more opportunities.
Random Thoughts:
Christian McCaffery is a god.
The Dolphins fucked up by winning, but I guess that's to be expected.
The Jets are positioning themselves nicely for that #1 pick!
What do the Bears do with Trubisky? I think it can't ALL be his fault, right? Nagy is an obvious headcase and it must be rubbing off on him. He wasn't lighting the world on fire last year, but Trubisky was dynamic and made plays when he had to. This year, the offense is comically and cosmically terrible.
This has to be Adam Vinateri's last season, right? Why would he put himself through it again?
The Number Twelve Looks Like You will be hitting the road again in a few weeks to support our new release Wild Gods. If anyone wants to throw down on some EDH or try to watch some NFL, please get in touch – my instagram is probably the easiest way!
11/29 Chapel Hill, NC – Local 506 https://bit.ly/2pKUAzD
11/30 Atlanta, GA – Masquerade https://bit.ly/2pIOqQy
12/2 Orlando, FL – Soundbar https://bit.ly/2W7TPg5
12/4 New Orleans, LA – Howling Wolf https://bit.ly/2Jquk4y
12/6 Fort Worth, TX – Tomcats Wes thttps://bit.ly/2MH0WJh
12/7 Houston, TX – Secret Group https://bit.ly/2MRyN29
12/8 Austin, TX – Come and Take It Live https://bit.ly/2JvNOov
12/9 San Antonio, TX – Paper Tiger https://bit.ly/31LlXXk
12/10 El Paso, TX – Rock House https://bit.ly/342uO8y
12/11 Phoenix, AZ – The Rebel Lounge https://bit.ly/35W9Vhc
Sponsored Links from Across the Internet
Show Comments