13 Bassists Who Could Replace David Ellefson in Megadeth
The biggest story in the metal world today, by far, is the firing of David Ellefson from Megadeth amidst an ongoing sex scandal. With a new album nearly complete and a tour with Lamb of God, Trivium, and In Flames kicking off in August, the band is gonna need to find a replacement ASAP.
And hey, look, it won't be hard for Megadeth to find a new bassist; pretty much any bass player who isn't Robert Trujillo would be only-too-happy to have a cushy paying gig with a Big Four band.
Still, we thought we'd make some suggestions, because, well… it's fun!
So without further ado, here are thirteen bass players we believe would make suitable replacements for Ellefson.
James LoMenzo
LoMenzo is the obvious choice to replace Ellefson because he's done it before: as Megadeth's bassist from 2006 until 2010, he appeared on two of the band's albums, United Abominations (2007) and Endgame (2009), both of which were well-received by fans. He's not an "exciting" choice the way some of the other suggestions on this list would be, but he's clearly more than capable.
James MacDonough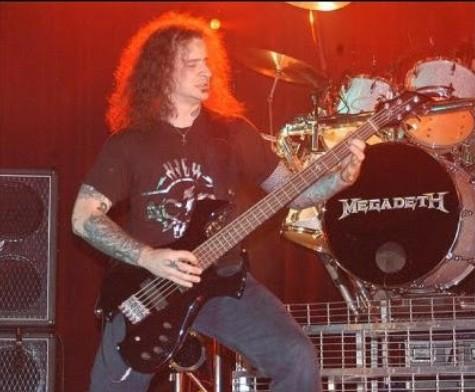 The former Nevermore bassist toured as Megadeth's bassist from 2004 until LoMenzo joined the fold in 2006. I have no idea if the split was amicable or not but, again, he'd be a thoroughly sensible selection.
Jimmie Lee Sloas
Sloas did session bass on The System Has Failed. He's obviously not getting this job, but not for lack of skill.
Ron McGovney
Also never gonna happen, and I honestly dunno what shape his skills are in these days anyway. But it would be kinda funny if he got hired.
Dan Lilker
I've had Lilker on the brain recently because of the Anthrax fortieth anniversary retrospective video series. This poor guy got totally screwed by Neil Turbin, who unilaterally fired him from Anthrax, without consulting the other band members, shortly before a tour so they had no choice but to comply (because singers > bassists in terms of star power/draw or whatever). I know we all love Frank Bello, but still — that's some cold shit.
Lilker also basically retired from metal because he wasn't making enough money.
Point being, it would be nice to see this dude finally get a decent payday, wouldn't it?
Jason Newsted
Seven years ago, Mustaine kicked Newsted off an Australian tour. So it seems safe to assume these two don't love each other. But if they were to unite, it would draw a TON of press for them. It would also probably send James Hetfield and Lars Ulrich into laughing fits.
Rex Brown
Decades ago, Mustaine could have had Dimebag and Vinnie Paul in Megadeth. Much like Bello replacing Lilker in Anthrax, that was probably for the best in the long-run, but does make you ponder the road not traveled.
Obviously having Brown in Megadeth isn't the same thing as having Dime and/or Vinnie Paul, but it's as close as Mustaine is gonna get at this point. Also, like Newsted, it would be a selection that got a ton of attention.
Steve Di Giorgio
Dude is a total pro and a career sideman. He is of course in Testament right now but I'm guessing he could be lured away.
Jeanne Sagan
Last we heard from the former All That Remains bassist, she had started a terrible new band with her partner. Point being, she's available. A lot of fans would lose their shit over a woman being in Megadeth but fuck those people. Also I think it would mean Sagan now made more money than Phil Labonte and that would be funny, too.
Blasko
Again, he's a consummate pro and career sideman. And yeah technically he's still in Ozzy's band, but that won't be the case for much longer. Plus he's the kind of choice that the entire fanbase would agree upon.
Jean-Yves "Blacky" Thériault
Just kidding, Dave Mustaine won't let anyone called "Blacky" be in his band.
Peter Iwers
How quickly can Iwers get a work visa? Would having him in the band make things uncomfortable for In Flames on the upcoming tour? And, if so, does anyone give a shit?
John Outcalt
Remember this dude from God Forbid? I have no idea what he's doing now, but he was rad. Also, sorry to be indelicate, but I bet he'd be a much cheaper option than some of the other people on this list. Mustaine should totes call him.
Make your own suggestions in the comments section below.
Sponsored Links from Across the Internet
Show Comments