THE CATALYST HAS SOME STRONG MUSIC TO GO WITH ITS STRONG OPINION ABOUT METALLICA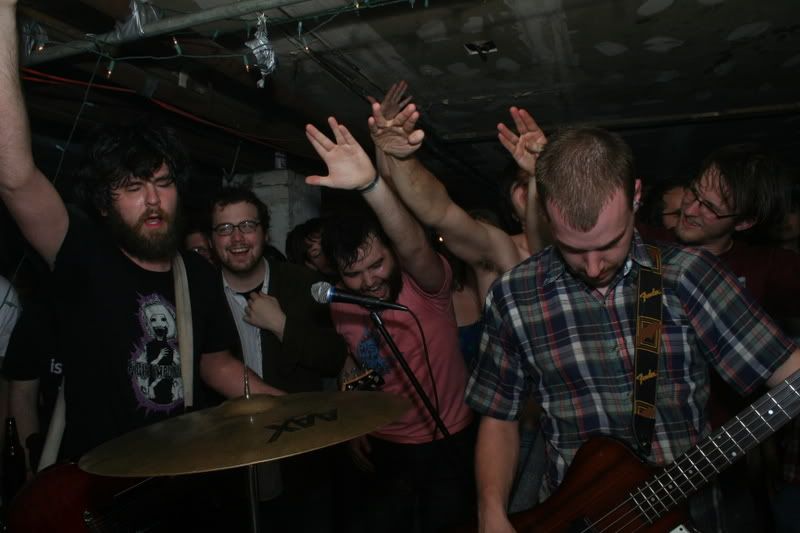 Love 'em or hate 'em, everyone reading this blog has something to say about Metallica. Naturally, Eric Smith, vocalist/guitarist for Virginia's noise-rock-by-way-of-hardcore act The Catalyst, has an opinion as well, one that some of you may very well share. Essentially, he thinks the wrong guy died in that tragic 1986 tour bus crash, as made abundantly clear by one of the tracks off the band's fantastic forthcoming album Swallow Your Teeth. That track, which we're offering to you as an exclusive free download, is called "Lars Ulrich's 1986 Funeral".
On the band's MySpace blog, XYZ writes:
This is one of two songs on this album which were originally called "Shark Sandwich," after the (fictional?) fourth SPINAL TAP album. How it came to have this excellent title instead was sort of an ordeal. See, no one else in the band thinks this joke is funny. Either we don't have the same sense of humor, or maybe they just don't share my opinion on METALLICA: They would still be a good band if only Lars had been the one crushed by the bus. So I suggested this as a title expecting at least a chuckle, but instead got a bunch of those groaning/sighing noises that seem to be unique to guys in bands and guys who record bands. In the punk band dialect, the word "no" is generally pronounced thusly:

"Hmmmmm. Ehhhhh… Um. I… Hmmmmm."
(long pause)
"Uhhhhhhh… Weeeeeee coooooullldddd…"
(longer pause)
"Maaaaaaaybe…"
(short pause)
"I dunno, man."

I never did convince them this song title was funny, but later, I bartered the song title in when I was outvoted 3-1 on going to Philadelphia to record–part of me was really nervous about being out of town, on a tight schedule, and blowing my voice out (I did–more on that later) or otherwise fucking up… In reality, we had a fucking rad time in the city made famous by the Tom Hanks film "Philadelphia" and we'll be going there again.
Before you all go to the comments sections to weigh in, I strongly encourage you to pre-order Swallow Your Teeth, due out August 3rd via The Perpetual Motion Machine, the same awesome indie that will drop the debut full-length from Kowloon Walled City later this Fall. (A European edition will come out from Italy's Sons Of Vesta.) The album will be available in both CD and vinyl formats, the latter of which comes in limited "Grimace Purple", "Bloody Mary Red w/ Black Mix" and good ol' black wax, so go get yours!
Additionally, The Catalyst is hitting the road to support Swallow Your Teeth. Full U.S. dates are as follows:
7/21 – richmond, va @ gallery 5 w/ hex machine, amoeba men, gull
7/23 – greensboro, nc @ square one w/ torch runner, constructor
7/24 – columbia, sc @ hunter gatherer w/ thank god
7/25 – atlanta, ga @ i defy II w/ diet cokeheads, big and tall, whores
7/26 – gainesville, fl @ the kickstand w/ chronic youth, resi noth, we moderns
7/27 – fort myers, fl @ house of cats w/ give up
7/28 – tallahassee, fl @ coolifornia w/ give up, random notes of decay
7/29 – new orleans, la @ saturn bar
7/30 – houston, tx @ double dave's w/ golden cities, black congress
7/31 – austin, tx @ the parlor w/ magic jewels, creeping jeans
8/1 – denton, tx @ bike house w/ ANS, seasick, bleach boys, stymie
8/2 – tulsa, ok @ soundpony w/ mako
8/3 – wichita, ks @ hemmorhage house
8/4 – lincoln, ne @ ghost house
8/5 – iowa city, ia @ the picador w/ meth and goats, megazilla, the tanks
8/6 – quad cities, il/ia @ TBA w/ meth and goats
8/7 – chicago, il @ summer camp w/ sea of shit, socially retarded, regrets, RN
8/8 – indianapolis, in @ TBA
8/9 – athens, oh @ house show
8/10 – pittsburgh, pa @ TBA w/ outclassed
8/11 – rochester, ny @ SNC house w/ white problems
8/12 – ithaca, ny @ the shop w/ june medrona, christopher bell
8/13 – boston, ma @ TBA
8/14 – brooklyn, ny @ the glass door w/ apeshit, big fiction, afflictions
8/15 – new york, ny @ TBA
8/16 – new brunswick, nj @ TBA
8/17 – philadelphia, pa @ TBA w/ big fiction, field day
8/18 – wilmington, de @ the spot w/ holy dirt, rat healer
8/19 – baltimore, md @ TBA
8/20 – washington, dc @ TBA
8/21 – fairfax, va @ count pyro's castle w/ dirty paws, gay knowledge, say no! to architecture
8/22 – richmond, va @ BFD after party, nara sushi w/ forensics, mouthbreather, alligator, worn in red
-GS
[Gary Suarez is now following you! He also writes for Brainwashed and usually manages the consistently off-topic No Yoko No. Say, why don't you follow him on Twitter?]
Podcast: Play in new window | Download | Embed
Subscribe: Google Podcasts | Spotify | RSS | Subscribe to The MetalSucks Podcast!
Sponsored Links from Across the Internet
Show Comments