DIGGING THE NEW CONVERGE ALBUM? TRY RISE AND FALL!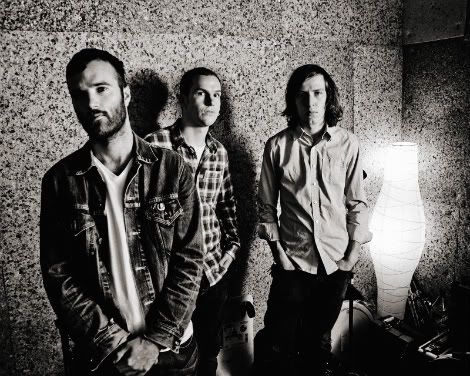 With Converge's critically acclaimed Axe To Fall still commanding the attention of the metallic hardcore faithful, this week's release of a new album from Belgium's Rise And Fall could naturally be overlooked. However, that would be to the detriment of those currently enjoying that higher-profile record. An intelligent, intense burst of recorded vehemence, Our Circle Is Vicious–which you can and should buy now–was (like so many Deathwish Inc. albums) produced by Converge's Kurt Ballou and stands as a considerable improvement on 2005's Into Oblivion. Listen to "Built On Graves" and "In Circles" at the band's MySpace page.
The band play a few U.S. shows this week before heading back to Europe for a month-long tour with Iron Age, whose recent album The Sleeping Eye we streamed back in August and is on Vince's "Best Of 2009" shortlist. That tour culminates in Rise And Fall's hometown of Gent, with a final show that also features Goatwhore, Skeletonwitch and Toxic Holocaust. The band will wrap up 2009 with a December tour through Australia, only to kick of the new year with a few gigs with labelmates The Hope Conspiracy. All dates are below.
10/28: Cleveland, OH @ Nows Thats Class w/ Harms Way, Creatures
10/29: Lemoyne, PA @ Championship w/ Cold World, Creatures
10/30: Somerset, NJ @ Warehouse w/ Cold World, Creatures
10/31: Albany, NY @ Valentines w/ Cold World, Creatures, Title Fight, Cruel Hand, Mother Of Mercy
11/01: Holyoke, MA @ Waterfront Tavern w/ Cold World, Death Before Dishonor, Creatures
11/06: Mol, Belgium @ JH Tydeeh w/ Iron Age
11/07: Essen, Germany @ Cafe Nova w/ Iron Age
11/08: Newport, UK @ Le Pub w/ Iron Age
11/09: Norwich, UK @ Marquee w/ Iron Age
11/10: Leeds, UK @ Josephs Well w/ Iron Age
11/11: London, UK @ Bar Academy w/ Iron Age
11/12: Paris, France @ La Peniche Alternat w/ Iron Age
11/13: Lyon, France @ Warm Audio w/ Iron Age
11/14: Brescia, Italy @ Latte + Club w/ Iron Age
11/15: Dornbirn, Austria @ Schlachthaus w/ Iron Age
11/16: Munich, Germany @ Feirwerk / Sunny Red w/ Iron Age
11/17: Berchtesgarden, Germany @ Kuckucknest w/ Iron Age
11/18: Vienna, Austria @ Arena w/ Iron Age
11/19: Gdynia, Poland @ Rocks Club w/ Iron Age
11/20: Gotha, Germany @ Kellercafe w/ Iron Age
11/21: Lichtenstein, Germany @ JZ Riot w/ Iron Age
11/22: Stockholm, Sweden @ Haninge Gula Villan w/ Iron Age
11/23: Hamburg, Germany @ Hafenklang w/ Iron Age
11/24: Berlin, Germany @ Cassiopeia w/ Iron Age
11/25: Mannheim, Germany @ JUZ w/ Iron Age
11/26: Eindhoven, Holland @ Dynamo w/ Iron Age
11/27: Bielefeld, Germany @ AJZ w/ Iron Age
11/28: Gent, Belgium @ Minus One w/ Iron Age, Skeletonwitch, Goatwhore, Toxic Holocaust
12/09: Perth, Australia @ Rosemount w/ Blkout
12/10: Perth, Australia @ YMCA HQ w/ Blkout
12/11: Adelaide, Australia @ Enigma Bar w/ Blkout, The Hollow
12/12: Melbourne, Australia @ Ding Dong w/ Blkout, The Hollow
12/13: Melbourne, Australia @ Castle w/ Blkout, The Hollow
12/16: Sydney, Australia @ Bald Faced Stag w/ Blkout, The Hollow
12/17: Byron Bay, Australia @ YAC w/ Blkout, The Hollow
12/18: Brisbane, Australia @ Princess Theatre w/ Blkout, The Hollow
12/19: Brisbane, Australia @ Rosies w/ Blkout, The Hollow
01/07: Berlin, Germany @ Cassiopeia w/ The Hope Conspiracy
01/08: Koln, Germany @ Werkstatt w/ The Hope Conspiracy
01/09: Antwerp, Belgium @ Trix Club w/ The Hope Conspiracy
-GS
[Gary Suarez opens up the sky's veins. He usually manages the consistently off-topic No Yoko No. Say, why don't you follow him on Twitter?]
Sponsored Links from Across the Internet
Show Comments