COREY MITCHELL'S TOP TEN ALBUMS OF 2008
In many ways, 2008 will be seen as The Year of the Old Fart. Of course, the big names that will be propped up by those who are blissfully unaware will be the longtime standard-bearers who shook off the dirt from their nearly submerged coffins: Metallica, AC/DC, and Guns 'N Roses. A closer look, however, reveals something much more fascinating. The Robert Downey Jr.-like resurrection of such Old Fart acts as Testament and Metal Church. These old-timers cranked out two of the best albums of the year that respectfully looked back on their storied histories whilst always keeping an eye on the future. Throw in fellow Old Fart Pink Metallers Enslaved and their genre-stretching side project Trinacria; plus, several bands who have chosen their influences well, namely Quicksand, Voi Vod, and P.J. Harvey, and you come up with truly one of the better off-the-mainstream-radar years in metal in a long time. Not to mention that the ultimate Old Fart tour, Masters of Metal, which featured the aforementioned Testament, Motorhead, Heaven and Hell (Black Dio), and Judas Priest, blew away the other so-called quality metal package tours. Now to the Top 10 albums of 2008. My criteria is probably different than the majority of you MetalSucks Maniacs. I don't give a rat's ass about album sales, media attention, or hipster quotient. No, my criteria is much simpler. Will it make me want to play Grand Theft Auto on my fellow San Antonians and will it get me pumped up to write about human beings slaughtering one another? Enjoy.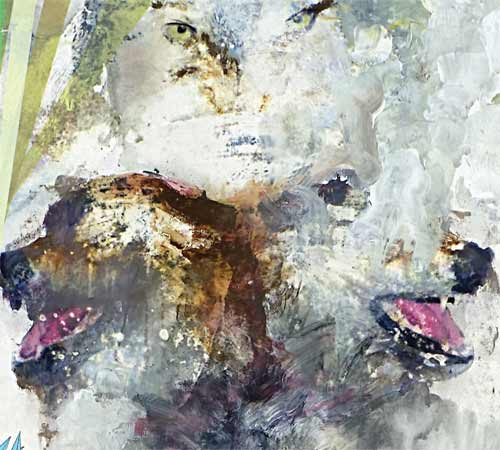 10. These Arms Are Snakes – Tail Swallower and Dove (Suicide Squeeze)
These guys take obvious pride in their devotion to the only alt-rock band of the '90s that mattered, the mighty Quicksand. Crunchy, bloozy, raw, bitter, yet playful. TAAS take the Quicksand sound by the unshaven balls, slap it around mercilessly with bespiked wrists, and T-bag their unsuspecting listeners until they gag tears of joy.
9. Burning Skies – Greed. Filth. Abuse. Corruption. (Lifeforce)
Yosemite Slam! ya rootin' tootin' varmint. Pack that Slayer/BDM/Hatebreed tobaccy in your pipe and smoke it!! Sprinkle a pinch of Morbid Angel in with a healthy heap o' pig squeals and you got yerself a feast that only Sarah Palin's slaughtered turkey wouldn't appreciate. The only deathcore band that matters, whatever the hell that means…
8. The Berzerker – The Reawakening (Berzerker Industries)
Ever wondered what the inside of a cancer-ridden lung would sound like if it could actually make a sound? Listen no further. These Aussies crank out some of the most intense Graf Orlockian cybergrind drum 'n bass technodeathmetal Skinny Puppyisms you have ever laid ears on. This is what I throw on when I want to get into my darkest mindset and write about murder.
7. Metal Church – This Present Wasteland (SPV)
The other thrash comeback king of 2008. As I stated in my review of this album a few months back, skip Metallica, head directly to Metal Church. Solid songwriting, a throwback to real heavy metal without ever feeling dated or ironic. Plus, lead singer Ronny Munroe has one of the best voices in the business.
6. Ganon – As Above, So Below (Acerbic Noise Development)
Have you been slightly disappointed with the output of many of the NeurIsis contingent these days? Well, look no further than Ganon. Their postmetalshoegazeinstrumetalprogathon has cinematic overtones, spaghetti Western attitude, and a crunchy space vibe to spare, while never once losing the ability to rock the fuck out of the joint.
5. Matriden – The Unsettling Dark (Candlelight)
I have no idea in hell how these guys put together such blistering, proficient black metal. They all live in different parts of the United States and never practice. Besides, their aversion to practice is a question of geography, not an affinity for Allen Iverson. Despite all of the obstacles in their way, TUD runs circles around not only most black metal acts, but most metal acts in general. Epic, funereal, technical without being wanky — and something of a rarity these days — a truly unsettling vibe that makes you question your own morals for choosing to listen to such twisted sounds.
4. Blacklisted – Heavier Than Heaven, Lonelier Than God (Deathwish)
Again with the Quicksand worship…. Again, I am a happy man. Listening to Blacklisted reminded me of what it felt like when I first experienced the sonic desolation and fury of Nirvana's Bleach (long before Nevermind thank you very much) or Quicksand's "Dine Alone." It's what Every Time I Die would sound like if they axed the ironic "humor" and rocked balls, blues, and blue balls and decided to stick a shotgun in their collective mouths at the end of a hard life. "I have nothing to prove." Indeed.
3. Testament – The Formation of Damnation (Nuclear Blast)
This phenomenal record sat at the top of my list for the majority of 2008 and I'm still vacillating on whether or not it can pull a Florida Gator and leapfrog over two other worthy contenders into the top slot. This is the ultimate comeback thrash record of all time, not that other over-rated bloated piece of crap that has been expectorated upon the world. For a much more detailed breakdown of Testament's masterpiece, check out my review from earlier this year.
2. Trinacria – Travel Now Journey Infintely (Season of Mist/Indie)
Featuring Ivar Bjørnson, Grutle Kjellson, and Ice Dale of Enslaved, Maja S. K. Ratkje and Hils Sofie Tafjord of Fe-mail, Iver Sandøy of Emmerhoff, and Espen Lien. This record goes far beyond Enslaved's brilliant release, Vertebrae, into a Weekend at Piggy's resurrection party for the late Voi Vod guitarist hosted by the denizens of Cannibal Holocaust and chaperoned by an army of Trilogy of Terror's Zuni fetish dolls who are passing out Teardrop acid in your choice of swaztika or pentagram tabs. The extra electronic blippery present here, combined with haunting, barely audible female vocal washes and tempered with extensive lava-flow repetitive riffery is like riding Astroworld's Barrel O' Fun upsidedown while making love to your better half without the stage fright or fear of pregnancy. In other words, there truly is no perfect way to describe the magnitude of ball-kicking going on with this record.
1. Jucifer – L'Autrichienne (Relapse)
Probably not what many of you expected from me or MetalSucks, but everything about this record screams brilliance. This two-person, female-fronted noise machine wrote an impossible concept record about Marie Antoinette that feels nothing at all like a concept record. Thank God, because I fucking hate concept records. The best way to describe Jucifer is to imagine having the coolest extreme music radio station on the planet where you can hear an amalgam of the heaviest, punchiest, punkiest, thrashiest, blackest, noisiest, gaziest songs all in one hour without ever having to switch the station or listen to a damn commercial. This record will thrill you, rile you up, and upset you all within the space of one song. Occasionally, you will think the entire machine will implode under its own manic diversity, however, somehow it is salvaged by a brutal feminine scream that doesn't try to sound manly, or a by a lilting passage of pain and despair that you not only feel in your gut but in your prostate and/or clitoris. Inexplicably, the behemoth manages to rise again, kill the pigs, and warn the world of an impending Helter Skelter. Imagine P.J. Harvey fronting Cryptic Slaughter headlining in the back alley of Austin, Texas's retired metal venue of choice, The Backroom, with Sunn O))) and Harry Connick, Jr. on the bill and maybe then and only then will you begin to get the gist of what Jucifer is all about. Easily, the best record of the year for this Old Fart. And now for something completely different…
Almost, but not quite: Enslaved – Vertebrae; Pyramids – S/T; Nachtmystium – Assassins: Black Meddle Part I; Genghis Tron – Board Up the House; NIN – Ghosts/The Slip; Origin – Antithesis; Meshuggah – obZen; 5ive – Hesperus; Gama Bomb – Citizen Brain; Esoteric – The Maniacal Vale; Jesu – Why Are We Not Perfect?; Russian Circles – Station; Made Out of Babies – The Ruiner; Embrace the End – Ley Lines; After the Burial – Rareform; Earth – Bees Made Honey in the Lion's Skull; Coffins – Buried Death; Warbringer – War Without End; Toxic Holocaust – An Overdose of Death; Gojira – The Way of All Flesh; Wetnurse – Invisible City; From a Second Story Window – Conversations; Soilent Green – Inevitable Collapse in the Presence of Conviction; Cancer Bats – Hail Destroyer; Motorhead – Motorizer
Wish I could have heard 'em, but I never got around to it: Samothrace – Life's Trade; Hennes Siste Host – Host; Gridlink – Amber Gray; Trap Them – Seizures in Barren Praise; Gods and Queens – S/T; Disfear – Live the Storm; Rotten Sound – Cycles; Bloodbath – The Fathomless Mastery; SSS – The Dividing Line; Johnny Truant – No Tears for the Creatures Meh: The Gates of Slumber – Conqueror; Opeth – Watershed; Torche – Meanderthal; Hour of 13 – S/T; Hail of Bullets – Of Frost and War; Cynic – Traced in Air; Slipknot – All Hope is Gone; The Human Abstract –Midheaven; Agalloch – The White EP (a big letdown for me)
DVD of the Year: Get Thrashed! The History of Thrash Metal
Music Video of the Year: Meshuggah – "Bleed"
Worst Album of the Year: Metallica – Death Magnetic (No brainer!)
Old Farts of the Year: Testament
Old Fart of the Year: Ronnie James Dio – making most of the young bucks look sad.
Band of the Year: Enslaved/Trinacria – caught 'em twice at SXSW in front of small crowds and they slayed. Side project is my #2 album of the year and Vertebrae is my #11 album of the year. I, too, will shed a tear if they don't come back to the U.S. in 2009.
Artist of the Year: Trent Reznor – Ghosts/The Slip – finally escaped the major label clutches to not only release a four-disc set of ambient instrumentals including one free disc, he then followed that up with an album "proper" which was given away free to anyone who wanted it. How fucking cool is this guy? Way cooler than you or me.
Looking Forward to in 2009: The new Cobalt record; heading back to SXSW for more metal showcase gigs; a TV show devoted to metal that is not as lame as That Metal Show; the return of the real Ozzfest; my new book on Bart Whitaker, a really pleasant soul who hired his buddies to murder his entire family; and Metal Orgasm Faces here at MetalSucks. Oh, yeah, and January 20th.
-CM
Sponsored Links from Across the Internet
Show Comments