AXL ROSENBERG'S TOP TEN ALBUMS OF 2008
It was the best of times, it was the worst of times. And what difference does it make, really? It's just a matter of personal taste, and we're all gonna die and be forgotten anyway.
So enough with the horseshit. Here's what I spent my year listening to: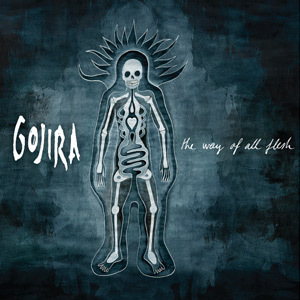 1. Gojira – The Way of All Flesh (Prosthetic/Listenable)
It was a pretty incredible year for death metal in all its various forms, and this sum'bitch led the pack. I feel like I heard a lot more people bitch about hype than I heard any actual hype itself. In any case, it's irrelevant: this album fucking rules. It crushes harder than being stuck under Billy Milano stuck under Dino Cazares stuck under Gene Hoglan, but it also just feels really fucking good to listen to. Whether it's the groovy tapping riff of "Oroborus" or the awesome dive-bomb of "Toxic Garbage Island" or the American New Wavery of "Adoration for None" or the elasticity of "Vacuity," this record is just fun. Joe Duplantier's sociopolitcal/spiritual (but not preachy) poetry elevates it above the usual death metal schtick. And the fact that Gojira seem to have evolved into the best live band, like, ever doesn't really hurt. The Way of All Flesh is an elephantine cockslap in the face of all that is boring about metal. It makes the monster from Cloverfield look like a massive, massive pussy. It murdered my father and raped my sister and left my village in flames. It is a true beast.
2. The Faceless –Planetary Duality (Sumerian)
Some people will label this album "deathcore" as a way of dismissing it. Those people should have their tongues cut out and then be made to eat said tongue, so as to better understand the value of a tongue.
Because The Faceless just might be the heaviest fucking progressive rock band of all time. Like I said, 2008 was a damn fine year for death metal, and technical death metal in and of itself did pretty fucking well – I mean, Origin recorded like a nine minute song, for fuck's sake – and Planetary Duality still somehow seemed better than everything.
Yeah, it's really short, but the length encourages an immediate repeat listen (if we still used cassettes, the program would repeat on side B, Reign in Blood-style), which is great, because you can't really, truly appreciate what an ass-rippingly righteous album this is if you haven't given it repeat listens. I think an awesome way to die would be to drop acid and have yourself decapitated… all while listening to this record. Awesome. Totally awesome.
3. Nachtmystium – Assassins: Black Meddle Part 1 (Century)
"Ghost of Grace" is the best song to get stoned to in 2008. Actually, this whole album is the best song to get stoned to in 2008. It's one of those recordings that somehow makes being really raw really beautiful. It's seething but trippy, an introspective scream into the storm. Black metal getting all hippy-dippy on us isn't exactly the big new reinvention of the genre people say it is, but Nachtmystium certainly seem to have perfected the act in a way which will forever tie it to their name.
Plus, the album art has tits and a skull and a difficult (if not quite impossible) to read font. Fucking metal.
4. Genghis Tron – Board Up the House (Relapse)
Now that seemingly every third band is aping the schizophrenic electro-grind that once made Cloak of Love seem so innovative, Genghis Tron really had no choice but to try and push forward and evolve. And evolve they did. These songs are still every bit as rabid-doberman bloodthirsty as anything GT have ever recored, but have a new coherency about them, as though the clash of styles has finally codified. The music has room to breathe; it wants to toy with you for a sec before it goes back to fucking you with a knife. Rarely has cover art so perfectly captured what it feels like to listen to an album. In any of year I think this would have been even higher on my list. Fuck, it's good.
5. Guns N' Roses – Chinese Democracy (Geffen)
Death Magnetic > Chinese Democracy, Slash > Buckethead, Where's Izzy?, Axl Rose is a douche, it wasn't worth the wait, it wasn't worth the money, it tanked, there's too many ballads, it's not tr00, it's corporate, it's overproduced, people who like this album also like to suck cock.
Now that we got all that out of the way…
Some people have dismissed this album out of hand, and it's their loss. Even if it is really just an Axl Rose solo album, it's one of the best records of its kind in years – rarely has recent pop music been as rewarding to multiple listens. Axl Rose makes pop metal the way pop metal is supposed to sound. Nuthin' to do now but buckle down and wait for the next Axl Rose Experience in fifteen years.
6. Cynic – Traced in Air (Season of Mist)
Full confession: wasn't even a Cynic fan before I heard this. A crime, I know. It's so pretty and so angry and so well-made for the purpose of doing illicit drugs. I mean, seriously, what is "Evolutionary Sleeper" if not a call for bong-induced naps? Listen to that totally sweet guitar solo – it makes my eyelids heavy in the best possible way. "Integral Birth" is a like a warm glass of milk and a good snuggly blanket, only it's, y'know, a mind-blowing prog-metal song instead.
Like any good jizz-inducing prog band, Cynic's music exists very much to demonstrate that they can play their instruments so well that all other musicians might as well kill themselves; unlike other good jizz-inducing prog bands (some of whom released very fine albums this year), this isn't frantic, show-offy, or generally pretentious. It's just really, really fucking good.
7. Made Out of Babies – The Ruiner (The End)
"RUN! RUN FOR YOUR LIFE!" Julie Christmas shrieks on this, her most public of therapy sessions; it's not a warning, but a threat. She is, without a doubt, one of the hottest women ever in serious need of an exorcism. For few bands would I brave the sea of Brooklyn hipsters, but for Made Out Babies, in a year when they put out an album this kick-ass, I might even go to the Lower East Side like it was still the 90s. Rarely has art metal/noise rawk/whatever been so worthy of the hype. It's entirely possible I didn't listen to any song as many times this year as I listened to "Invisible Ink." As epic, primal, and cinematic as its cover would suggest.
8. Hate Eternal – Fury & Flames (Metal Blade)
Erik Rutan finally crawls out of the shadow of Morbid Angel to make his masterpiece. It's so fucking angry and ugly and unrelenting and exhausting and fucking magnificent. Jade Simonetto's curb-stomp blast beats and the endlessly swirling guitars of Rutan and Shaune Kelley and the screaming, oh God, the screaming – if there's a scarier sounding dude that Erik Rutan, I don't know of him.
"YOU HAVE NOW PASSED ON!" the fucking demon from hell we know as "Erik Rutan" bleeds his throat raw shouting on "Tombeau (Le Tombeau de la Fureur Et Des Flammes)." "YOU SHALL NEVER BE FORGOTTEN! YOU SHALL ALWAYS BE REMEMBERED!" Rutan doesn't care about anything other than making you feel his pain in the most visceral way possible, and he succeeds. There is nothing pretty or nice about this record. It is the sound of the most horrid agony imaginable. And it's one for the ages.
9. Daylight Dies – Lost to the Living (Candlelight)

The melodic death metal experience of the year. The gorgeous and aching doom experience that we've come to expect from these dudes – only the songwriting and musicianship have been kicked up a notch. How come there wasn't a European band to make something like this in '08?
No matter. Lost to the Living is like the sound of a Shakespearean villain – evil, seductive, wounded, and epic in ambition. Metal's answer to drifting through outer space – freeing and horrifying and cancer black.
10. Bloodbath – The Fathomless Mastery (Peaceville)

Alright, this was just the fun, straight-forward death metal album of the year. A lot of bands managed to sneak in hooks without giving over completely to the Gothenburg side, and a lot of bands managed to write breakdowns to annihilate an entire city by, but no one else had riffs this tasty. There's no bullshit here – just a 100% solid reminder of why we listen to death metal in the first place. Shame on me for writing off a Swano-less Bloodbath; The Fathomless Mastery put me in my place, and then some.
Best album of 2009: whatever Lake Bukkake puts out. Fingers crossed.
-AR
Sponsored Links from Across the Internet
Show Comments