HARD COMPLICATED TIMES CALL FOR HARD COMPLICATED ROCK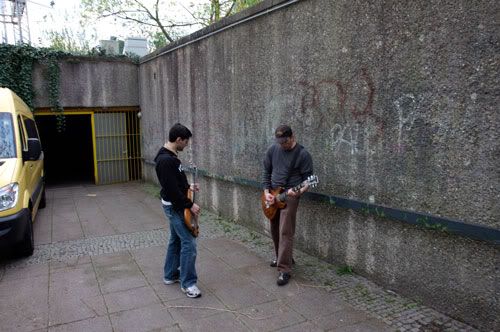 When you have the CFO of Freddie Mac killing himself, you can't deny we're in some pretty fucking awful economic times. Of course, The Austerity Program anticipated our financial ruin from the start, as the phenomenal noise rock band's name suggests. Creating a big ugly sound like an even-angrier Shellac, this New York based duo shares your frustration and, as such, invite you to vent in the pit at during its headlining gig this Sunday April 26 at Brooklyn's Union Pool with Wetnurse and Tournament.
The Austerity Program is arguably the best act in what I've begun calling The New Wave Of American Noise Rock, and Black Madonna, their nasty 2007 album for Hydra Head Records, is nothing short of a fucking masterpiece. Expect to hear material from that essential record as well as new tracks from the forthcoming EP the band is currently working on. Also, music gear geeks really ought to hit up the "Studio" section of The Austerity Program's website for insights on the technology being used on the new recordings. It's not like you have anything else to do, considering that you've been laid off and Cash4Gold still hasn't sent that check for your mother's jewelry.
-GS
[Gary Suarez has you over a barrel. He also writes for Brainwashed and usually manages the consistently off-topic No Yoko No. Say, why don't you follow him on Twitter?]
Sponsored Links from Across the Internet
Show Comments