NO JACKASSERY FROM ASSJACK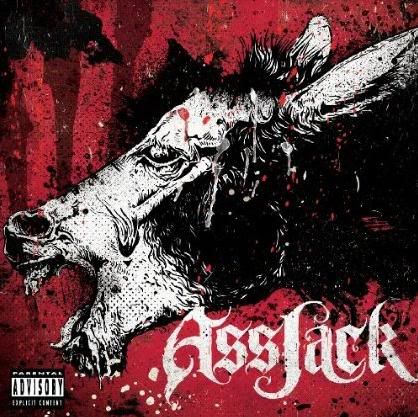 Boasting a resume that features members of Pantera more prominently than any Nashville session players, multi-instrumentalist Hank Williams III has defiantly cultivated a career and an image in stark contrast to the country roots evoked by his iconic namesake. Though hardly abandoning his heritage, the grandson of the honky tonk pioneer continues to mystify and enthrall with this, the first "official" release from this band.
When Phil Anselmo recruited Williams to join his abrasive side-project Superjoint Ritual as its bassist, it had to come as a shock to those familiar with his "neotraditional" country releases. But surely they had to have seen the signs in Williams' lyrical content that he was anything but enamored with the Nashville status quo. By aligning himself one of the most well-known figures in metal, he was waging a conscious campaign to prove that he didn't need to be confined to anyone's narrow standards in order to make good music. This dyad, coupled with his infamously bipolar solo gigs (featuring half-country, half-metal sets), elevated Williams to a sort of cult status. Though some of his choices have not produced particularly memorable results – last year's barely passable Arson Anthem release with Anselmo and Eyehategod's Mike Williams certainly comes to mind – the long-awaited self-titled Assjack offers nonstop thrills, grooves, and vitriol over the course of its ten tracks.
Though hardcore punk has an undeniable influence on Assjack, I cautiously avoid attaching the oft-stigmatizing metalcore label to this. Some call it psychobilly; others call it cowpunk. Ultimately, Williams calls it death metal, and while that's obviously up for debate, without a doubt Assjack is his most accessible heavy music effort yet. At the same time, it's surprisingly diverse, often in the confines of a single song. For example, "Wasting Away" switches between blastbeat-laden verses and groove metal choruses. Though not as chaotic as Mike Patton's projects, I am reminded of a less-kooky version of Fantomas when listening to "Cut Throat" and the reefer-referencing highlight "Chokin' Gesture." The drug talk doesn't end there, of course, but "Cocaine The White Devil" seems more cautionary than celebratory with its paralytic slow-motion bridge and nightmarish howls.
For longtime fans that have had to make do with bootlegs, this album should come as a reward for their patience and devotion. Though not the first country-fried metal album to come from the Pantera universe (see: Rebel Meets Rebel, which joined David Allan Coe with Dimebag Darrell, Vinnie Paul, and Rex Brown), Assjack doesn't beat listeners over the head with its Southern origins. Instead, it capitalizes on Williams' outlaw image so extensively that there's no audible evidence of compromise. This is clearly the album that he has longed to make, and thankfully it turned out to be a rewarding and brutal listen.
(3 ½ out of 5 horns)
-GS
[Gary Suarez feels like chicken tonight. He usually manages the consistently off-topic No Yoko No. Say, why don't you follow him on Twitter?]
Sponsored Links from Across the Internet
Show Comments