EVERYTHING BUT THE KITCHEN SINK INCLUDED ON DOOMRIDERS' DARKNESS COME ALIVE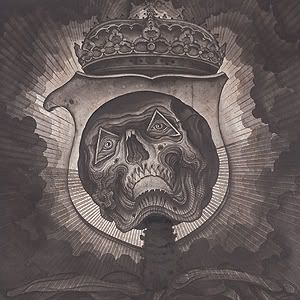 As rabid Converge fans chomp at the bit for the imminent release of the highly anticipated Axe To Fall, bassist Nate Newton presents something far more accessible to digest in the brief interim with Darkness Come Alive. Perhaps the most viable and visable of that New England hardcore act's side-projects, Doomriders treat the "doom metal" tag fairly loosely, using it more as a jumping off point than a modus operandi. Distinct from the fawning nostalgia of acts like Gates Of Slumber or The Sword, the project is a satisfying hodge-podge of classic metal influences tempered by a more modern framework.
There's really something for every metalhead to identify with on Darkness Come Alive. Doomriders indulgently channel their inner Motorhead on "Equalizer," while "Bloodsucker" would reside comfortably on just about any hardcore enthusiast's iPod Nano. Flamboyant guitar work on tracks like "Mercy" will delight purists weary of the melody-starved void that pervades far too many of today's popular metal subgenres. The lone single-worthy cut "Come Alive" switches tempos with fluidity and precision, blending the best parts of Danzig (a band that Doomriders lovingly covered on 2005's Not Of This World EP) and Black Sabbath. Another album highlight, "Jealous God" opens strong and menacing with the stadium-level intensity of an AC/DC classic, yet adds enough of Doomriders' own ferocious style that the sonic drama becomes more threatening as it inches towards an epic close. This could easily have been expanded into an eight-minute odyssey, though I suspect the members' hardcore instincts dissuade them from such pompous grandiosity.
A few short and scattered segues of dark psychedelia ("Night Lurker," "Untitled") seem like unfinished tracks and abandoned ideas tacked on to add some unnecessary length or depth. Ultimately, as far as side-projects go, Doomriders is well above average, though, admittedly, hardly game-changing. It's difficult not to enjoy Darkness Come Alive, but equally challenging to try and love it.
(3 out of 5 horns)
-GS
[Gary Suarez is the spade of aces. He usually manages the consistently off-topic No Yoko No. Say, why don't you follow him on Twitter?]
Sponsored Links from Across the Internet
Show Comments