OCEANO'S ANDREW MIKHAIL GETS DEEP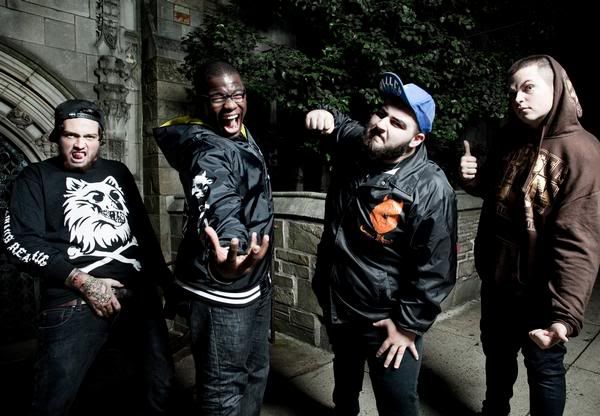 By now, it should be crystal clear to everyone just how I feel about Oceano. Considering the response to my 5/5 review of the Chicago band's debut Depths, it seems only fitting that the day I take over MetalSucks is the day I get to share with you my interview with guitarist Andrew Mikhail, who opens up about illegal downloading, being labeled "deathcore", and CDs as art.
Oceano has been frequently likened to Whitechapel, both in a complimentary and dismissive capacity. Do you consider this a fair comparison?
Not really, I personally think that people say that because our music STYLES are similar. not the music itself like some say, but I guess stuff like that will happen when two bands share the same influences for their music. We are actually good friends with whitechapel and I always joke about that stuff to them, because THEY don't even think we sound the same. Heavy and metal.
You've spent a fair bit of 2009 on the road and that's continuing with the Winds Of Plague tour. How is this lifestyle treating you?
Honestly, its not enough. We love what we do and we have a good time doing what we love.
Are you satisfied with the overall response to Depths? Are you okay with the subgenre tag 'deathcore' being applied to your music?
Were very happy with the results from "Depths" this year. For a debut album it has exceeded our expectations and couldn't be more happier. Not much to say there, but music wise, I'd classify oceano as death metal music with a hardcore mentality. We play death metal influenced music with the passion that you only get from hardcore music and performance. But, for convenience sake we've come to terms with the term "deathcore" when being described on print or such. I'd just consider us metal for even more convenience! (Insert metal elitist comments below, because we SUPPOSEDLY "don't know what REAL metal is" haha).
Similar to that of other acts in the deathcore scene, a majority of Oceano's fanbase are in their teens and early twenties, a group that is particularly comfortable with illegal downloading of music. What is your opinion on this phenomenon?
I've said it once and ill say it again, music is art. When you buy a cd at the store you get more than music, you get the full work of art. When doing so, you can fully understand and appreciate the message and concept of every album you buy. With technology changing, it bums me out that everything is slowly turning to online format for the reason of convenience. The messages will be lost in translation, and will be misunderstood. But when it comes to downloading I don't care though, download music. Most bands I talk to don't care, as long as you listen, understand, and come out to be apart of something more than filesharing. Something real.
Has the band begun work on a follow-up to Depths?
Yes, we have started writing our next album in our down time between all these tours. Its simply, hands down, most aggressive material we've written to the date. We've got a lot more to be pissed off about this time. ;)
MetalSucks readers have had quite a bit to say about Oceano. Do you have anything you'd like to say to them?
Whether you love us or you hate us, you help keep us going! thank you guys and see you on the road!
-GS
[Gary Suarez does the best inhales. He usually manages the consistently off-topic No Yoko No. Say, why don't you follow him on Twitter?]
Sponsored Links from Across the Internet
Show Comments