THE VOICE OF ROCK, GLENN HUGHES, UNDERSTANDS THE TWITTER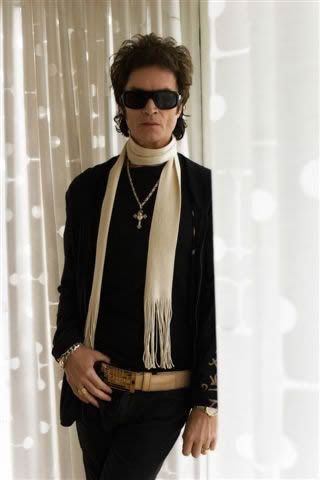 Twitter is arguably the most powerful tool available to musicians today, its micro-blogging mechanism allowing for real-time dissemination of information as well as a venue for direct communication open discussion with fans. Sadly, too many bands focus so heavily on the first of these benefits (Shadows Fall are a prime example of Twitter fan abuse, their profile replete with repeat tweets) that they squander any chance of actually connecting with their supporters. Interestingly, one musician who actually "gets" Twitter comes from a generation of rockers you'd expect to not "get" Twitter. His name is Glenn Hughes.
That's no typo. I'm talking about the Glenn Hughes, the vocalist/bassist best known for his work with Black Sabbath (well, Tony Iommi) and Deep Purple. I'm a big fan of his one-off collaboration with The KLF, the massive rave-rock anthem "America: What Time Is Love." This track in particular meant a lot to Hughes, as indicated in a July 1992 article for Select magazine.
The KLF had become cure-all miracle workers. Glenn Hughes, former Deep purple, Gary Moore and Black Sabbath vocalist who'd been hired for the 'America: What Time is Love' session issued a press statement headed "The KLF Saved My Life!". The recording session, he spouted, had inspired him to kick a cocaine habit. "I suddenly understood that there was more to life than drugs," gushed Glenn. "I mean the KLF guys were aware of my previous record of drug-induced unreliability but were willing to give me a chance… I did ten vocal tracks for them in 25 minutes, and realised that 'America' would be huge and probably my last chance to make a go of my career again. My credit on the single: 'Glenn Hughes – The Voice Of Rock' restored my confidence and was a kind of life-line… Drugs are for losers." Thus did "The KLF guys" inspire young Glenn to check in *chez* Betty Ford in LA.
…but I digress. Back to Twitter!
Hughes' tweets are informative, sincere, and, most notably, frequent. Here's a sampling of some recent ones.
It is an Honour to called the Voice Of Rock..i love Rock Music..i always have…i am not a follower…i am a leader…so never say never..GH
11:09 PM Nov 7th from TwitterBerry

Nice to see that I'm in the new Bowie and Iggy Pop Biography Books…God bless 'em…I'll have wild stories about these 'ol mates, in Mine
3:11 PM Nov 6th from TwitterBerry

Hi peeps,i will be performing 2 GH Classics with my friend Joe Bonamassa @ LA House of Blues next Thurs/Nov 12, i wanna see GH crazies!! GH
1:57 PM Nov 5th from TwitterBerry

I am @ the MJ movie..hmm?..i'll give you my review later….God only knows what he did or didn't do while he was alive..not my biz, its Gods
9:40 PM Nov 4th from TwitterBerry

I'm havin' lunch in Manhattan Beach…what a glorious day…
4:36 PM Nov 3rd from TwitterBerry
Even from these few tweets, we've already learned that Hughes is playing a show, writing a memoir, and living his life to the fullest. Indeed, Shadows Fall could learn a thing or two from the "Voice Of Rock."
-GS
[Gary Suarez does the hokey pokey. He usually manages the consistently off-topic No Yoko No. Say, why don't you follow him on Twitter?]
Sponsored Links from Across the Internet
Show Comments