SXSW '11 CINEMETAL: PENTAGRAM, FOO FIGHTERS, & MUTUAL SEX CHANGES
In addition to the stellar heavy metal line-up featured at this years South by Southwest (SXSW) Music Festival in Austin, Texas, the SXSW Film Festival will showcase more than a handful of heavy metal friendly flicks when you feel you need to take a load off your feet after standing around listening to raging metal bands all day long.
Here is the list of heavy metal films at SXSW '11 with descriptions from SXSW.com:
LAST DAYS HERE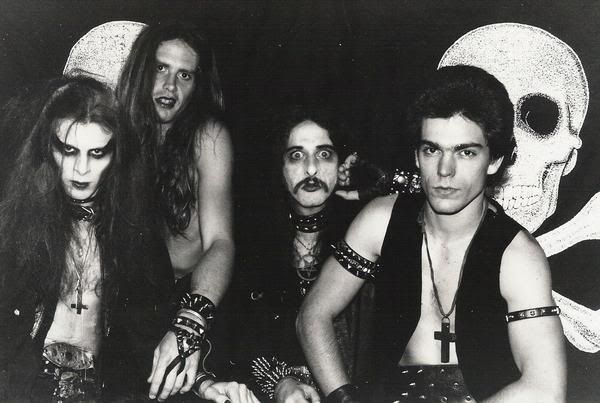 Last Days Here tells the story of Bobby Liebling, lead singer of the cult hard rock/heavy metal band Pentagram. Frozen for decades in his parents' basement, Bobby's music is finally discovered by the heavy metal underground. With the help of Sean "Pellet" Pelletier, his friend and manager, Bobby attempts to overcome years of addiction, loneliness, and broken dreams. Intimate, raw, and unexpectedly funny, Last Days Here portrays the unbelievable journey of a man at the crossroads of life and death. (WORLD PREMIERE)
BOB AND THE MONSTER
Six years in the making, this documentary film follows outspoken indie-rock hero Bob Forrest (Thelonious Monster), through his life-threatening struggle with addiction, to his transformation into one of the most influential and controversial drug counselors in the US today. Bob and The Monster crafts contemporary footage, animation and compelling interviews with archival performances and personal videos from Bob's past to reveal the complex layers of this troubled, but hopeful soul. Testimony from his peers, including Courtney Love, Anthony Kiedis and Flea add texture, but it's the depth of Bob's music, interwoven throughout the film, that illuminates this unforgettable and inspirational story. (WORLD PREMIERE)
FUBAR: BALLS TO THE WALL
Headbanger relics, Terry and Dean, are tired of trying to give'r while barely scraping by, so they head up North to make sweet cash working on the pipelines. Flush with money and confidence, Terry starts dating Trish, a local waitress, and things get serious in a hurry. Meanwhile, Dean is playing up the part of 'cancer survivor', and upon hearing about the glories of Worker's Compensation, purposely bungs up his leg in an attempt to qualify. (U.S. PREMIERE)
THE BALLAD OF GENESIS AND LADY JAYE
The Ballad of Genesis and Lady Jaye documents the modern love story between Genesis P-Orridge — founder of Throbbing Gristle and Psychic TV and one of the most influential figures in underground music since the 1970s – and Lady Jaye, his closest artistic collaborator for 15 years. Director Marie Losier trains her sensitive, tactile vision on "Creating Their Pandrogyne", the couple's attempt to dissolve the physical boundaries between them and become the same person. Mixing interviews, home movies, and performance footage, Losier brings us nearer to the artists than ever in a playful and moving revelation of a new romantic consciousness. (NORTH AMERICAN PREMIERE)
FOO FIGHTERS
The film takes us on the 16 year journey of the Foo Fighters, from Dave Grohl and Pat Smear's surviving the aftermath of Nirvana to Dave, Pat, Nate Mendel, Taylor Hawkins and Chris Shiflett's rise to the top of the charts and the stages of stadiums worldwide. … These Days builds from day one to the creation of their new album – recorded in 100% analog. No computers, no software – just a band recording an album to tape in Dave Grohl's one-car garage. (WORLD PREMIERE)
HESHER
Loud music. Pornography. Burning shit down – just a few of Hesher's favorite things. And it's just this kind of anarchy that's needed to shake the burdens of sorrow from a boy and his father.
THE OTHER F WORD
What happens when a generation's ultimate anti-authoritarians — punk rockers — become society's ultimate authorities — dads? With a large chorus of Punk Rock's leading men — Blink 182's Mark Hoppus, Red Hot Chili Pepper's Flea, Rise Against's Tim McIlrath —The Other F Word follows Jim Lindberg, 20 year veteran of skate punk band, Pennywise, on his hysterical and moving journey from belting out his band's anthem, "Fuck Authority", to embracing his ultimately pivotal authoritarian role in mid-life, fatherhood. (WORLD PREMIERE)
-CM
Corey Mitchell is a best-selling author of several true crime books.
Sponsored Links from Across the Internet
Show Comments