MARILYN MANSON KILLED 4/20, or THE TWELFTH ANNIVERSARY OF THE COLUMBINE MASSACRE AND HOW HEAVY METAL WAS RESPONSIBLE
If you follow my true crime writing career, you know that I have always been a defender against those who want to blame music and movies for the wretched deeds of serial killers, mass murderers, and other killers. I have even had others in my line of work attempt to blackball me for my passionate love of horror films and heavy metal. These folks cannot reconcile that an individual can enjoy the darkest side of entertainment and yet still be a pacifist who treats people with respect and sympathizes with those who suffer real world violence.
Last week, loyal MetalSucks reader Matthew Kurtz asked me if I would write something about the Columbine Massacre as today is the twelfth anniversary of that tragic school shooting. The focus here would be on how the media and certain insecure people opted to lay the blame of Eric Harris and Dylan Klebold's shooting spree on heavy metal music, specifically industrial artists Marilyn Manson and KMFDM, violent videogames, and everything else other than the killers themselves.
WARNING: GRAPHIC CRIME SCENE PHOTO AFTER THE FOLD!!!
Blaming metal for murders and suicides is nothing new. You know the roll call – Ozzy, Judas Priest, Metallica, Body Count (?!?), up to and including to more recent incidents that allegedly involve Slipknot, Backyard Burial, and Metallica. This, of course, conveniently overlooks the numbers of murderers who have cited The Bible, God, the Koran, Allah, Jesus, etc., etc. ad nauseum as the reason they chose to snuff out the lives of other human beings. Then there are those who blame their diet, the weather, the price of a burrito, on and on and on…
It is a subject far too immense for a mere blog post. I have a feeling that Heavy Metal Hysteria may soon be the title of one of my next books.
Subsequently, I think you would better served to listen to and watch Marilyn Manson talk about his impact on his fans and whether or not heavy music is to blame for Harris and Klebold's murderous deeds.
Also, heed the words of those who oppose Manson and heavy metal. There is another presidential election coming just around the corner in America. I'm certain heavy metal and it's supposed negative impact will come up sooner or later in some aspiring politician's stump speech.
If it isn't obvious, some of these videos contain violence and dirty words.
THE COLUMBINE MASSACRE VICTIMS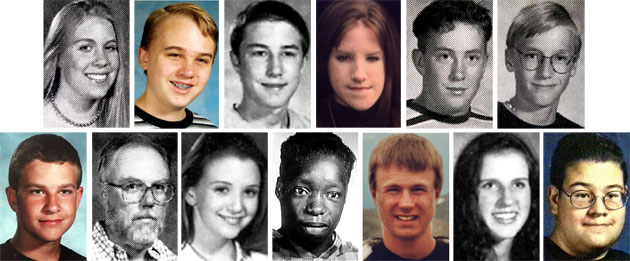 Cassie Bernall
A 17-year old junior who had dabbled in witchcraft and drugs had turned her life around two years before she was killed. She became active in her church and was restructuring her life. (Unfortunately, the story that circulated about her martyrdom was not true.)
A 14-year old freshman, Steven loved aviation and dreamed of becoming a Navy pilot. He also loved to play soccer and to watch the Star Wars movies.
Corey DePooter
A 17-year old who loved the outdoors, Corey loved to fish, camp, golf, and inline skate.
Kelly Fleming
A quiet 16-year old who liked to spend time in the library writing short stories and poetry.
Matthew Kechter
A shy, sweet sophomore, Matthew was a football player and a straight-A student.
Daniel Mauser
A smart but shy 15-year old sophomore, Daniel had recently joined the debate team and the cross-country squad.
Daniel Rohrbough
A 15-year old freshman, Daniel loved to play hockey and Nintendo with his friends. Often, after school he helped his father in his electrical store.
William "Dave" Sanders
A long-time teacher at Columbine, Dave was the girls' basketball and softball coach and taught business and computer classes. He had two daughters and five grandchildren.
John Tomlin
A 16-year old with a good heart and a love of Chevy trucks. A year before he was killed, John traveled to Juarez, Mexico to help build houses for the poor.
Lauren Townsend
A beautiful 18-year old senior who loved Shakespeare, volleyball, and animals.
Kyle Velasquez
A 16-year old sophomore, Kyle had only been a student at Columbine for three months. His family remembers him as a "gentle giant" and he was a big fan of the Denver Broncos.
Rachel Scott
A 17-year old who loved acting in plays, could play the piano by ear, and had a strong belief in Christianity.
Isaiah Shoels
An 18-year old senior, Isaiah overcame heart problems (two heart surgeries) to become a football player and a wrestler.
(*This list of victims and their descriptions was taken directly from Jennifer Rosenberg's About.com article that was posted the same day as the massacre.*)
-CM
Corey Mitchell is a best-selling author of several true crime books. He wishes you would consider donating to the Parents of Murdered Children non-profit organization.
Sponsored Links from Across the Internet
Show Comments