The WSOU Staff's Top Fifteen Metal Albums of 2017

Seton Hall University's WSOU radio is the only all-metal, all-the-time station currently broadcasting in the US, and has been a force in metal for DECADES. It's also streamable online from anywhere in the world! Each week, the staff of WSOU shares their picks for the heaviest of the heavy, as well as the station's charts for that week, right here on MetalSucks.
We asked the staff of WSOU to collectively choose their favorite metal albums of 2017 with us, and thankfully — hopefully without too much infighting — they obliged!
15. Zeal and Ardor – Devil Is Fine (MVKA)
Zeal & Ardor are one of the most interesting acts to come out of 2017, and the year started out strong with the blackened blues album that is Devil is Fine. Their transition from a comment on Reddit to a darling amongst music publications is both impressive and proof that experimentation is alive and well in heavy music. Their single "Come On Down" has been stuck in all of our heads for the past ten months.
14. Seven Kingdoms – Decennium (Napalm)
Power metal can be a hard pill to swallow for many metal fans. I get that it's sheer bombasticity and "Happy Metal" tone can be off-putting to a crowd usually associated with biting heads off animals and various black metal shenanigans. A lot of that feeling towards the genre is felt in the US where -core is king and breakdowns are the millennial "wooh" of heavy music. Seven Kingdoms released an album that shows the world that the home of Manowar can still produce bands that you can slay dragons to.
13. Thy Art Is Murder – Dear Desolation (Nuclear Blast)
We were once asked by a listener if SiriusXM's Jose Mangin's nephew went to Seton Hall because of the amount of deathcore we play. On behalf of WSOU's staff, we would like the records to show that unlike Uncle Joe's show, we knew better than to play the new Suicide Silence more than twice. We did, however, spin Thy Art Is Murder's new album all summer long. Their death metal influence really shines through on this album, offering all the blast beats anyone could want.
12. Cannibal Corpse – Red Before Black (Metal Blade)
2017 has been the year of death metal, with many of the genre's classic acts like Suffocation, Immolation, Obituary and Morbid Angel all releasing acclaimed albums. However, Cannibal Corpse's Red Before Black stood tall amongst their fellow death metal titans as the band shifted their sound to incorporate more groove without losing any of their renowned brutality.
11. Fit For An Autopsy – The Great Collapse (eOne / Good Fight)
Fans of deathcore rejoiced this year as a slew of solid albums dropped in the genre. A personal favorite of the WSOU staff was New Jersey's own Fit For An Autopsy who released The Great Collapse in March. For those skeptical of deathcore who are looking for a place to start, this album might be a good bet.
10. Wolfheart – Tyhjjys (Spinefarm)
One of the underdogs of 2017, Wolfheart offers some seriously ambient melodeath. Following their 2015 release Shadow World, the Finnish group's new album is one of the best the genre has seen in years. Though Abbath seems to have forgotten to put out another album, Wolfheart has satiated our thirst for songs about cold and dark places. But above all else, no one really builds up to a riff like these guys do. Tyhjjys grips you with its acoustic lullaby-like intros and pummels you with a wall of vibrating steel.
9. The Black Dahlia Murder – Nightbringers (Metal Blade)
One of 2017's most anticipated releases was Nightbringers from The Black Dahlia Murder. While the band didn't reinvent their sound on this album, the addition of guitarist Brandon Ellis has brought some subtle changes to the band. Ellis's incorporation of neoclassical elements into his guitar playing is flawless and has given the band some extra flavor in their sound.
8. Converge – The Dusk In Us (Epitaph)
There are a lot of mathcore fans at WSOU. We're in Dillinger country after all! So it only makes sense that Converge get props from us. After a five year hiatus, the genre pioneers brought us 12 songs of pure onslaught. These guys will help us cope with the fact we may never see another Dillinger Escape Plan album.
7. Trivium – The Sin and the Sentence (Roadrunner)
Trivium's last album seemed like a shaky transition to the more melodic, chorus-driven metalcore act they are today. This album has its "return to form" notes but ultimately sticks with a post-In Waves Trivium sound. Something that many don't understand about the DJs at WSOU is that many are just getting into heavier music. They start with the Slipknots and the Type Os, and through bands like Trivium find heavier sub-genres they like. The Sin And The Sentence is one of those bridging albums that has its catchy choruses but also has blast beats, tremolo picking, and the aggression many claim these guys have lost over the years.
6. Queens of The Stone Age – Villains (Matador)
Although alt rock has always seemed to be a perpetual phoenix rising from the ashes, it has graced us with some of the greatest enduring acts in rock music. One such group is the ever popular Queens of the Stone Age, who dropped their new album Villains this year. Villains is a sonically pleasing album that demonstrates that the band's sound is never quite fixed, but in a state of constant flux. The one thing that is not in flux, however, is the listenability of their music.
5. Iced Earth – Incorruptible (Century Media)
From the opening masonic chant of "Great Heathen Army" to the last melodic strumming of "Clear the Way," Iced Earth stay true to their heavy power metal roots; a mixture of slow and fast beats, trilling riffs, deep growls and high screams. The highlight of this album is "Seven Headed Whore;" other than the jovial title, Jon Schaffer and his epic backing band set out on a mission to capture the warrior's battle spirit and triumphantly do so without fail. Incorruptible adds yet another soon-to-be classic to the band's catalog.
4. Code Orange – Forever (Roadrunner)
Code Orange continue their meteoric rise with Forever. Although they are a hardcore band at heart, they seem eager to prove they're not just a one trick pony. The album still contains Code Orange's violent wall of sound, but it's mixed with elements from the industrial and nu metal spectrums. Code Orange are not the sole future of heavy music, but this album proves they're definitely a part of it.
3. Mutoid Man – War Moans (Sargent House)
Something that 'SOU prides itself on is its listeners and student-staff members' willingness to explore new music. Our own listeners voted the album's lead single "Metal Your Mind" as our song of the summer, a proud moment for us as this band is nowhere near "mainstream" and yet beat out Stone Sour's "Song #3" in the polls. The whole album is a wild ride of lyrical innuendo, crunchy riffs, and lack of boneless Nickelback.
2. Mastodon – Emperor of Sand (Reprise)
Mastodon's discography has always been full of themes of oceans, water and monstrous sea creatures that fill the songs. So when the band announced that Emperor of Sand would be a narrative concept album about, among other things, SAND, some fans started getting nervous. But if anyone was afraid that this record would be too dry, a singular listen-through proved them completely wrong. Songs like "Steambreather" take you on a vapor-filled journey through smooth hooks and driving drums, while "Show Yourself" stands as an accessible, rolling hit. To make the final package even better, Mastodon rounded out their experimentation by packing the back half of this album with nostalgic, to-the-roots crowd pleasers.
1. Power Trip – Nightmare Logic (Southern Lord)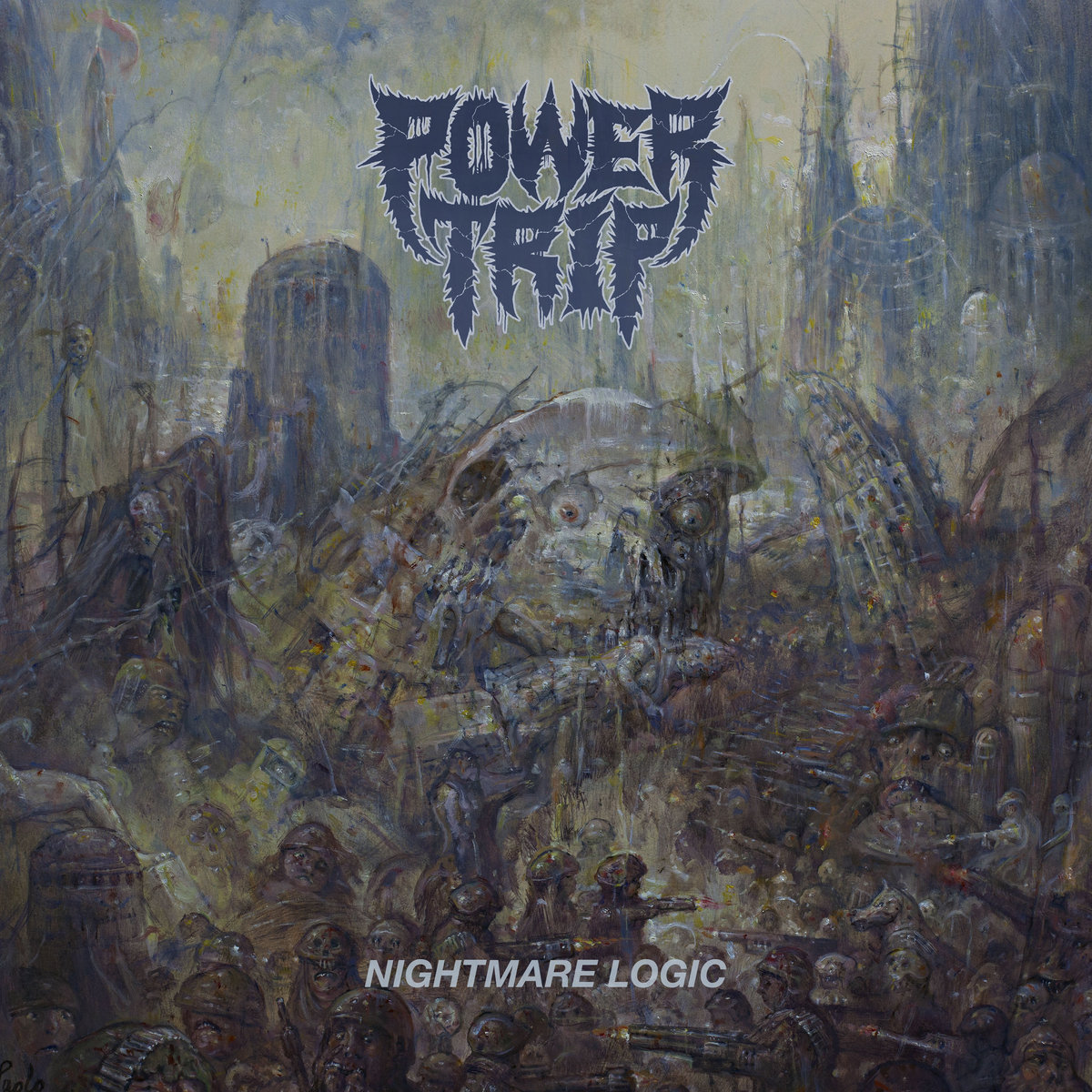 Probably one of the easiest and best bands to headbang to! WSOU staff certainly have no shortage of concert attendees in the pit every time Power Trip comes around. We're all looking forward to the next tour to incorporate the madly intense new hits, especially since the advent of such a brutal album with sickeningly contagious riffs. Aggressively beautiful to a tee. The kings of crossover have claimed our collective album of the year.
Sponsored Links from Across the Internet
Show Comments