METALSUCKS EXCLUSIVE INTERVIEW WITH METAL CHURCH'S RONNY MUNROE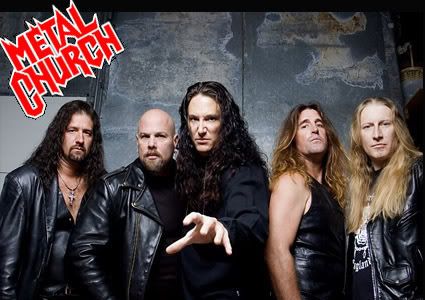 MetalSucks pensman Corey Mitchell recently had the chance to chat with frontman Ronny Munroe of Aberdeen, Washington thrash titans Metal Church, whose new album This Present Wasteland he gave a glowing four and a half out of five horns review. After the jump, read Ronny's thoughts on the new record and a bunch of other topics.

MetalSucks: Tell me about the recording of the new album, This Present Wasteland.
Ronny Munroe: It starts with Kurdt (Vanderhoof) when he decides to go into writing mode, that's when everything starts to happen. Once he gets some songs finished, he sends them to me via MP3 for me to start writing lyrics and melodies. With this one, we were actually able to do quite a bit more pre-production. I think that shows within the songwriting.
I can tell you were influenced by Ronnie James Dio, Rob Halford, Bruce Dickinson, Geoff Tate, and even some Rik Emmett from Triumph.
Oh, you caught that. What did you catch that on?
I want to say it was Breathe Again. By the way, that's not a put down, that's a compliment.
Oh no, Rik Emmett has a great voice.
Even though you may sound like those guys, you have your own unique sound. Too many vocalists today do Cookie Monster vocals, so it's really nice to hear good singing again.
Thank you. I really appreciate that. I always bring up the Cookie Monster thing, too. I sing with emotion and that's really what I like and that's where my influences are.
Can you give me a brief rundown of your history before joining Metal Church?
I originally came from a place called Fife, Washington, between Tacoma and Seattle. I began banging on pots and pans and stuff as a baby. As soon as I could talk, I wanted to be a rock star. I didn't want to be a fireman or a policeman; I wanted to be a rock star.
In elementary school I started off with saxophone. That lasted all of about two months. I finally talked my mom into buying me my first set of drums. I played for about seven or eight years, messing with singing in between.
I started jamming in this band called Madhouse. Something happened one day at practice, someone didn't show up, and the guys asked me to sing a couple of songs. It was "Man in the Silver Mountain" and "Hallowed be Thy Name."
On the way home, the guitar player, Ray, said, "I think you should become a singer. Let's start a new band." And I was like, "okay." So, I sold my drums and got a mic, and that's how I became a singer.
How long did you perform on the club circuit in Seattle?
Probably over twelve years, off and on. I would take a break because nothing was really happening. I did Top 40 a couple of times, and a 80s tribute band called Glamm Slamm. Eventually I just had to get back into originals. What happened was in 2001, I ran into the band Rottweiler. They ended up calling me back and wanted me to play the Wacken Festival with them in '02.
So long story longer, about two weeks before I was about to record the new Rottweiler, I met up with Kurdt through a friend of mine and I was asked to join Metal Church.
Were you a full-on Metal Church fan from the early days?
Oh, yeah. I used to drive around with the cassette tape from the first album in my car and singing Gods of Wrath at the top of my lungs not knowing one day I would be doing it for real.
How does that affect you now when you look back in retrospect?
I was overly excited about it, and I still am. It's an honor to be in this band. I'm very glad I met Kurdt, and that he chose me. It's awesome. With the things that I've done previously in my musical career I was prepared to do this. There were a lot of situations that I went through over the past few years that prepared me for this moment. I've been ready for it.
Did you play together before with bassist Steve Unger?
Oh, yes, Steve and I played in Glamm Slamm.
Was Glamm Slamm hair metal meets Suicidal Tendencies?
It was all hair metal, man!
Sweet. Did you dress up?
Oh, yeah! We had this sickening promo video that I can't even watch anymore. I'm wearing this sparkly shirt and we've got pyros that go off and only one side goes off. We had no budget. It was pretty much Spinal Tap.
Did Steve follow you to the next band after Glamm Slamm?
Yeah, after Glamm Slamm we had a break for a couple of years. Then I was the singer for Metal Gods. It was very heavy. I brought Steve into Metal Gods, and after I got into Metal Church, we needed a bass player. Something happened with the guy Kurdt had before. He said "Why don't we try Steve out?" I gave Steve a call and the rest is history.
Could you talk about some of the lyrical ideas on This Present Wasteland? Is there a specific theme throughout the album?
We don't ever start out with a theme. A lot of bands do, but we just kind of fly off the cuff. All the songs are based around the world today. That's a lot of what I write about: personal struggles, world struggles, overcoming them, rebuilding just to be torn down again.
For instance, "Crawling to Extinction" is pretty self explanatory. Basically we're all going to hell in a hand basket if we don't change our ways.
"Deeds of a Dead Soul," the premise is someone or something in life that was just pure evil, (but also in death) still leaves that evil on this Earth. Whether it is followers of that person or sect or whatever, I don't want to get too deep.
"Mass Hysteria" is kind of along the same lines. It's the end of the world.
"Monster" is one that Kurdt wrote about the computer age and sitting down at the keyboard all day long and not knowing who you're talking to and all the things that come with it. A lot of people think it's about downloading, but that's what songs are about: drawing your own judgment. That's something I like to try to do.
My lyrics are never straight to the point. I like to think they're thought provoking and that one person could get a different idea than another.
Well, ambiguity is art. That's a very difficult feat for a songwriter to accomplish.
If I accomplish any of that then I'm a lucky guy.
Former guitarist Jay Reynolds left the band earlier this year…
Jay had some personal problems that he needed to tend to. We all thought it would be best if he would step down.
Did Jay play any guitars on the new record?
We parted ways before he had a chance to do any of that.
How did you guys recruit new guitarist Rick Van Zandt?
Rick was the guitar player in Rottweiler and in my solo band as well. I introduced Rick to Kurdt. He's more than a confident player, he's a good guy and he fits right in. Kurdt liked him and loved his playing, and he decided that he was the right fit.
Going back to 1986's The Dark, it's one of my favorite albums. David Wayne was just a fucking god as far as singing in that heavy, yet melodic style. How does it feel to fill in those big footsteps?
First of all, I send out much respect to him. I used to drive around screaming Gods of Wrath and The Dark. I sang along to all that stuff, much respect to David Wayne and rest in peace.
Mike Howe stepped in and also had a great voice. They went through a different level when Mike came in. They changed direction a little bit musically and politically. Both of them have great voices.
At first I thought "man this is going to be [some] heavy shoes to fill." I think I've done a pretty good job of it. Most people have said that, but there are always the die-hard fans that don't care for me. Some don't care for Mike Howe, some don't care for David Wayne, it's a very mixed bag. I do have confidence; I'm not going to lie. I've got years of experience before I stepped into Metal Church.
Do you guys get flack from people because Kurdt's the only remaining original member in the current incarnation?
I've seen some comments that we should just hang it up. There have been a lot of bands like that, but few have the main guy that was writing the songs from the beginning. Kurdt Vanderhoof is Metal Church. I've been a part of it now for the past five years. We're all part of it, but when all is said and done, he is Metal Church. We deserve to be called Metal Church as long as Kurdt's in there.
Do you feel you've won over a lot of those die-hard fans?
From what I've been told, yeah. Most people, I think, have accepted me. The ones that haven't, all I can say is I'll try and do a better job on the next record to win you over.
Final thoughts?
Music is a gift. I'm blessed. I'm in a great band and bonded with a great songwriter. Even if I wasn't making any money with this, and trust me, I'm not making a lot; I would still do this for the love of music.
[Corey Mitchell is also a best-selling author of books and blogs about serial killers, mass murderers, and brutal crimes against humanity.]
Sponsored Links from Across the Internet
Show Comments