WHY YOU SHOULD SEE GAVIN ROSSDALE ON TOUR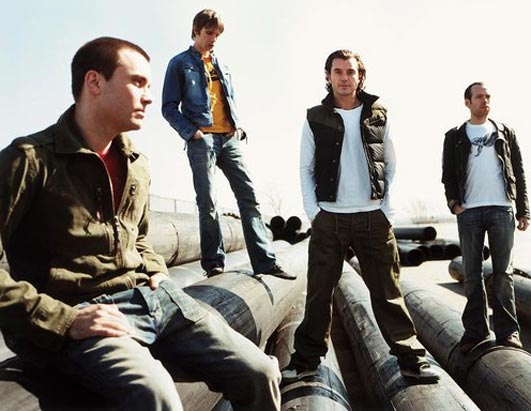 Tonight, Gavin Rossdale will be playing New York's Gramercy Theatre as part of a May/June U.S. tour supporting his 2008 solo effort Wanderlust. Those of you familiar with this record or its corresponding singles know that the former Bush frontman has departed significantly from the raucous yet melodic post-grunge of his old band, opting for a softer, essentially adult contemporary sound not entirely dissimilar to Chris Cornell's post-Audioslave offering Carry On. While this description likely wont appeal to you metal maniacs (I sure as hell didn't buy it), here are a few reasons why you should load up on alcohol and catch one of the upcoming dates.

1) He's gonna play Bush songs. A recent playlist shows roughly a third of the set comes from that back catalog. Oh, don't even pretend that you didn't like "Machinehead" or "Everything Zen." You fucking loved them. Stop fronting.
2) You missed out on Institute. What's Institute, you ask? Well, it was Rossdale's first post-Bush band to release an album. What did it sound like? LIKE GAVIN ROSSDALE FRONTING HELMET! Page Hamilton produced the fucking thing, and two dudes from a later incarnation of Helmet played in the band (along with Cache Tolman of Rival Schools and Josh Freese). Sadly, Distort Yourself was the group's only full-length. Rossdale laments that he didn't just call it a solo album, because it would've gotten a hell of a lot more attention.
3) Chris Traynor is on guitar. Quick bio: co-founded Orange 9mm, did a stint as Helmet's live guitarist on the Aftertaste tour, later went on to join Institute and an iteration of Hamilton's retooled Helmet. Chris Traynor is a hardcore noise rock veteran, and if anyone can make Rossdale's pop songs more aggressive onstage, he can.
-GS
[Gary Suarez is going to fly to Los Angeles and find his asshole brother. He also writes for Brainwashed and usually manages the consistently off-topic No Yoko No. Say, why don't you follow him on Twitter?]
Sponsored Links from Across the Internet
Show Comments