SXSW '12 METALSUCKS EXCLUSIVE – A QUICK CHAT WITH HELLION DIRECTOR KAT CANDLER
If you enjoyed the portrayal of messed up kids (or adults who refuse to grow up) in films such as River's Edge, Bully, Alpha Dog, or Boys Don't Cry, then you will appreciate this six-minute marvel of metallic and familial mayhem.
Hellion was directed by University of Texas film lecturer Kat Candler. She writes and directs films. Real films. Feature-length, majorly distributed films. And short films that get accepted to Sundance. She teaches other aspiring filmmakers how to make films. She organizes groups to help women in cinema. In other words, Kat Candler is a living, breathing guru of the silver screen. Her skills are readily apparent in Hellion.
I don't want to give away much about the short film, so I encourage you to catch it at this year's SXSW Film Festival as part of the Texas Short Competition.
I contacted Kat yesterday and asked her via e-mail about Hellion, heavy metal, and why's she so darn nice?
Short films are traditionally about concept over character. Hellion bucks that trend and hones in on a seemingly dysfunctional family of men (well, a man and three boys). Who are these men and what the hell is their problem? And how did you convey their dysfunction so well in only six minutes?
It all started with a simple story my mom told me about her three younger brothers and what happened when they set my grandfather's jeep on fire as kids. That story always stuck with me. And I'm always a sucker for the dynamic between parent and child and even more so father and son. So when I started writing the script, I definitely delved a lot deeper in to these characters — specifically how these boys have been affected by the absence of their mother. And how each one of them deals with it in their own (and sometimes very screwed up) ways.
I believe the best stories and movies are character driven. If you can feel invested in a character and go on a full emotional journey with them, then that's fucking awesome. And if you can do it in less than ten minutes, that's even more fucking awesome. Cause that shit's hard.
Along with the writing, I also had some hearty conversations with the actors about these characters — who they are, why they are the way they are and where they're coming from emotionally. And all four of those guys really brought it.
One of the first things to grab the viewers' attention is the blaring metal guitar-driven soundtrack that kicks in the intro. Why in the heck is a respected college lecturer and Sundance-accepted film director using heavy metal in her soundtrack?
Ha! That's hilarious. The music was always a reflection of what's going on with these kids. I think metal is a perfect tool and probably why so many kids gravitate toward it. They get to be angry and upset and rage through music. Someone understands what they're going through. Someone gets it, y'know?
It's funny our second to last screening at Sundance, the picture and sound comes up on screen BLARING the way it should … and then immediately the projectionist turns it WAY down. I'm turning to the theater manager, "No, it's supposed to be loud, it's supposed to be chaotic they have to turn it back up. Please." People get nervous with the opening of the film. Kids screaming, music blaring, total chaos. That's the way it's written on the page.
Who is the mad man responsible for the blaring metal soundtrack and should I be afraid for you?
Curtis Heath is the bad ass mad man behind the music. He's a friend of a friend who lives in Fort Worth. He's in the band The Theater Fire, which is a polar opposite of the Hellion music. I think he was giddy with the opportunity to retreat back to his junior high metal days to come up with our score. He turned it around so quickly and was spot on. I pretty much gave him the film and said "80s thrash metal here and here" and he came back with something so awesome and spot on. The music makes me so happy.
But with that said, I barely, barely go to shows anymore. I'm in bed by 10pm and up by 6:30am, which usually puts a damper on the live music experience.
I would say I really love most metal. And I'm intrigued by all of it. I'm fascinated by the world of metal. And in terms of the music, I'm probably all over the map. My husband is the one who got me into it. He's an encyclopedia of music and film. But yeah, he just started buying and consuming everything. And he started me out easy with bands like Agalloch and things that were a little more up my indie alley. And then when I started researching a script I was working on, I started expanding beyond what he was pushing on me. Essentially it was research. Fun research.
What are your current favorite metal acts? Why? How come the bands I like are so much better than yours?
Take note that I'm a newbie. I'm not someone who was listening to Anthrax or Mayhem when I was in high school. I was listening to REM, The Police and Broadway (I was a theater nerd). And then in college I worked at a radio station and was super into all things indie… Magnetic Fields, Bikini Kill, PJ Harvey, Helium, Throwing Muses, Cat Power…
I have to say whatever I'm writing at the time really dictates what I'm listening to. Because I'm working on two films that either directly relate to the metal scene or my characters listen to metal that's what I've been listening to of late. Some of my favorite metal bands… Death, Pig Destroyer, Repulsion, Metallica and Agalloch. Is that weird? Do The Misfits count? I don't know. I have no idea. You probably shouldn't ask me nerdy music questions cause I'll be like, "I don't know, I just like it." And shrug.
Last year I was working on my script Nikki is a Punk Rocker, so I was consumed with everything from the Ramones and The Distillers to Richard Hell and the Voidoids to Television and the Slits. It just depends. That's the fun part of writing. Being immersed in a world. But what's funny is that most of the movies I've been writing in the last few years revolve around music.
Aren't you working on a feature length film entitled Death Metal? Without giving up the final reveal, what can you tell us about your script?
I am. It's a script I started this time last year. It's roughly about an American death metal band who are all getting older, they're in their early 30s, some with families and kids. On the heels of a Texas teen killing his teacher in the name of their band they go to Norway to record their next studio album with a famed black metal producer. And then as they're holed up in the middle of winter in this old house turned into a recording studio, weird shit starts happening. It's kind of a horror drama. Very character driven. I'm fascinated by the idea of what we put out into the world and how it can come back to haunt us. I'm interested in the theatrics versus the reality. And how we make this shift as we get older to what we want to put out into the world. Especially once you have kids and a family.
This pleasant, professorial demeanor you exude is simply a facade isn't it? You're really a hardcore metalhead aren't you?
Uh… I curse a lot. Does that destroy the professorial facade? In class, I'll start my semester off with my main motto, "Be nice to everyone" and then a warning, "You'll find that I curse a lot, I'm really sorry if it offends you." It's funny because I have this reputation for being nice and sweet and then people meet me and I'm all, "fucking this and fucking that." I get excited about things. I use "fuck" a lot as an adverb or for emphasis. I'm still really nice, I just curse a lot. My mom has to warn her friends about my foul mouth.
SXSW 2012: THE METAL SHOWCASES
SXSW 2012: THE METAL PARTIES ***
Check out my SXSW 2012 Metal Guide for the most up-to-date listings of officially-sanctioned metal showcases, movies, and panels.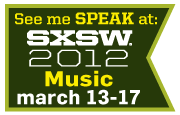 SEEING RED: AESTHETICS AND VISUALS OF METAL I will be loosely moderating a discussion about heavy metal artwork with M. Shawn Crahan, AKA "Clown," from Slipknot, Mike IX Williams from Eyehategod and Arson Anthem, and Orion Landau, in-house designer for Relapse Records. THURSDAY, MARCH 15 @ 2:45PM in Rooms 11 A & B in the Austin Convention Center.
-CM
Corey Mitchell is a best-selling author of several true crime books and is currently helping Philip H. Anselmo write his autobiography. Join Corey at Facebook, Twitter, and Google+. If you see me at SXSW, come up and buy me a beer (or at least a Sprite) for putting all this shit together for you guys!
Sponsored Links from Across the Internet
Show Comments