Necessary Roughness Week 10: Roger Goodell is No Good
This was the first week in a while I actually had the chance to watch a good portion of the Thursday game. And, as if on cue, Richard Sherman went and had his Achilles tendon explode. After the game, he mentioned that the tendon was bothering him all season and he wouldn't say that the short rest contributed to the rupture, but it's really hard not to think it did. Richard Sherman is one of the best corners in the league and has never missed a game in his career. Now he's done for the season, will have a tough rehab and his team's shot at the playoffs is that much worse. Death to TNF!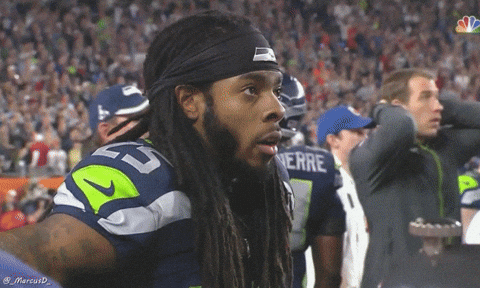 This week, the NFL had a brutal slate of early games. By my estimation, Minnesota/Washington was the most watchable, but only because Case Keenum turned back into a pumpkin in the fourth quarter and gave up two quick picks. For a minute it looked like Washington was actually going to come back from what was at one point a 38-17 game. The Vikings defense remained tough and allowed Minnesota to widen the gap between themselves and the rest of the NFC North. I'm sure you saw this a million times already, but the one TD Kirk Cousins threw was caught by someone named Maurice Harris and was in-fucking-credible:
Hollllly crap. This is a 11/10 catch by Maurice Harris. #HTTR pic.twitter.com/zZ4gwBuD5G

— Sung Min Kim (@sung_minkim) November 12, 2017
Elsewhere in the league, the Saints curb-stomped the poor Bills, handing them their first home loss of the season. Somehow the Saints got even scarier in the process by running for 298 yards! Goddamn Mark Ingram had 131 yards and three touchdowns. Freaking old ass Drew Brees scampered in for one as well. The Saints are now on a tear, winning their last seven straight and becoming a complete team in the process. Check out this piece about their defense over on Deadspin. #billsmafia did not take this loss well. Someone was SET ON FIRE and there was an obligatory streaker:
We got a streaker in Buffalo!! #BillsMafia pic.twitter.com/bSpkFYrYQo

— Barstool Sports (@barstoolsports) November 12, 2017
On the complete opposite side of the competency spectrum, this happened in the Jets/Bucs game:
Josh McCown and Ryan Fitzpatrick threw interceptions on CONSECUTIVE PLAYS pic.twitter.com/1XERvTLRBl

— Barstool Sports (@barstooltweetss) November 12, 2017
Unsurprisingly, the game ended 15-10.
The late games thankfully brought us some good football and plenty of reason to celebrate. Starting with my beloved Giants… they lost to the 49ers, allowing us to leapfrog them in the draft! Good job, boys. I hate that it's looking like the end for Eli in NY. I kinda wish he had been traded to the Jags so he and Tom Coughlin could have had one more go with a great defense and playmakers on offense. C'est la vie. Maybe next year!
The Falcons whooped the Cowboys! And by "Falcons" I mean "Adrian Clayborn completely by himself." Six sacks, two forced fumbles and a fumble recovery? Are you serious?
Adrian Clayborn, you are a MONSTER.

A franchise-record SIX sacks in one game! pic.twitter.com/YlBIrNmCYh

— Atlanta Falcons (@AtlantaFalcons) November 13, 2017
Jadeveon Clowney looked like he was going to be able to stop the Rams completely by himself in the first half of the Texans game in LA. He had three tackles for loss and a sack… in the first half. The dude was all over the right side of the Rams O Line. Assuming DeShaun Watson and JJ Watt come back healthy, the Texans are going to be SCARY next year. This week, though, the Rams simply overwhelmed them in the second half. There's only so much one DE can do when your offense is led by Tom Savage.
Look out. #ClowneyComin pic.twitter.com/Jzow5dHQo1

— Houston Texans (@HoustonTexans) November 12, 2017
Fantasy Pimp of the Week
Robert Woods! Woods sat on my fantasy bench for the first seven weeks of the season. I dropped him on the Rams' bye week to make room for some scrubs. I remembered to pick him back up on Thursday and boy am I happy! 171 yards and two TDs including this MONSTER:
So @JaredGoff16 to @robertwoods is getting pretty fun.

94-yard TD ???? #HOUvsLA pic.twitter.com/7KzYnabNCp

— Los Angeles Rams (@RamsNFL) November 12, 2017
Some Random Thoughts
I don't have the will or knowledge to speak too much about the Ezekiel Elliot suspension except to say that Roger Goodell is fucking terrible at his job. He deserves every bit of scrutiny that he's receiving while trying to reup his contract. The dude makes north of $30 million to fuck around and repeatedly screw up these suspensions. He's led the NFL into a handful of high profile lawsuits regarding said suspensions and he's directly affecting the quality of football being played. Now he's asking for $50 mil and a private jet for life. The owners should just replace him with an algorithm: he's a stooge and a jackass and shouldn't be making decisions on what to feed himself, let alone handing out suspensions and conducting extrajudicial investigations. The owners are no angels, but they're the owners, they're supposed to be rich sacks of shit.
Look at how this corporate jerkoff responds to questions about whether Colin Kaepernick is good enough to get a job (he is, btw… you saw that Jets/Bucs game above, right?)
The commissioner of the NFL is not a football expert. Got it.
I was brutally hungover yesterday and woke up with a craving for chicken pot pie. So I went and made one. I cannot recommend this enough. It was easy and it's probably the most baller football watching food ever, especially now that November is February in NY. I'm so impressed with myself.
Song for Giants Fans
Shame we don't play the Browns this season, we're gonna have to hope they win a couple late in the season so we can get the first overall pick. The rest of our schedule is looking pretty brutal. Remember this song?
If, for some reason, you want to keep this schizophrenic abomination of a playlist for yourself, you can find it on Spotify here.
BTW, I'm heading out on tour with The Number Twelve Looks Like You next month. We're playing our apparently 12-year-old album Nuclear. Sad. Nuclear. in its entirety. Come hang!
Sponsored Links from Across the Internet
Show Comments