BEST METAL DVDS OF 2008
'Cause sometimes, we like to watch shit, too.
Cannibal Corpse – Centuries of Torment (Metal Blade)
Okay, I had to watch this in increments because there's just so fucking much of it. The most comprehensive Denise Korycki documentary you could possibly wants. Live footage from each of the band's many eras. Music videos. Just, hour upon hour upon hour of shit. And the foil wrap-around cover art? People, if for no other reason, awesome death metal cover art proves that physical media must survive!!!
God Forbid – Beneath the Scars of Glory and Progression (Century)
Another awesome, br00tally honest Denise Korycki documentary, accompanied by an absolutely devastating, David Brodsky-directed concert film. A must-own for one of the best American New Wave bands out there.
Various Artists – Roadrunner United: The Concert (Roadrunner)
Imagine if almost every awesome musician who has ever been signed to RR – including past and present members of Sepultura, Slipknot, Hatebreed, Shadows Fall, Anthrax, Fear Factory, Deicide, Chimaira, Trivium, H.I.M., Judas Priest, Annihilator, and an assload more I'm forgetting – all got together to jam for a special concert celebrating the label's anniversary. Now imagine someone captured the whole affair on film and release a DVD. It doesn't get any cooler than this, kiddies.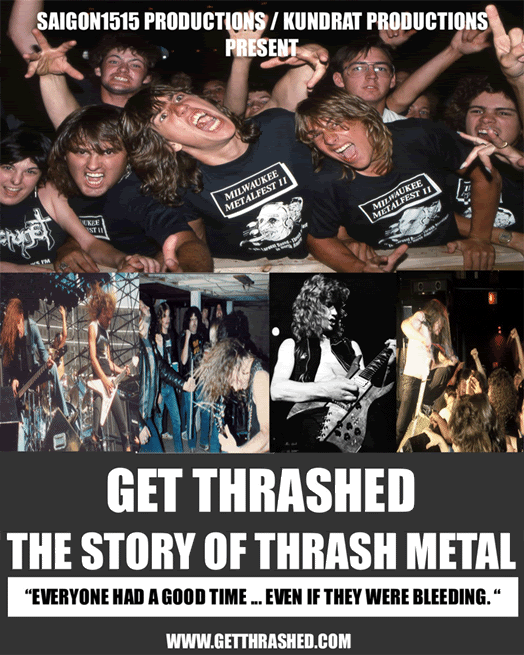 Get Thrashed: The Story of Thrash Metal
The name pretty much says it all. Everyone from Gary Holt to Dave Mustaine to Scott Ian weighs in with his recollections of one of the most awesome and important scenes in metal history. A must-see for those just getting into thrash and old skool fans alike.
Heavy Metal in Baghdad
A startling, scary, and moving documentary about Iraq's only (at least at the time) metal band and the incredible obstacles they're forced to overcome just to survive. An instant classic and shockingly important piece of work. If you've ever said "I'd die for metal" and you're not one of these dudes, then you've never really put that faith to the test.
-AR
Sponsored Links from Across the Internet
Show Comments