KOWLOON WALLED CITY'S JASON PACE DISPLAYS HIS VAST KNOWLEDGE OF THE DENNY'S BREAKFAST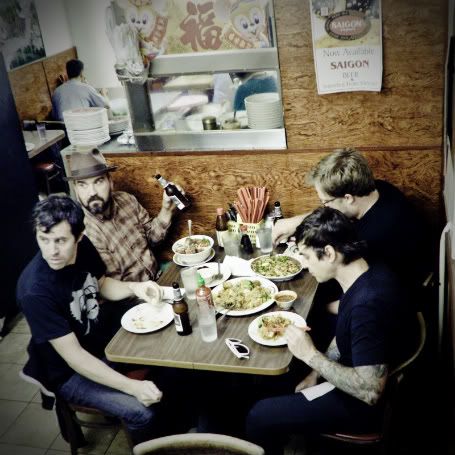 San Francisco's Kowloon Walled City are an integral part of the short history of Scraping Genius Off The Wheel. One of the reasons why I started this here blog column at MetalSucks was to document what I recognized as a New Wave Of American Noise Rock. The band's 2008 Turk Street EP turned me on to their sound, which was like Unsane and Zozobra locked in some sort of mutually gratifying sexual position. Since then I have spent a fair amount of virtual ink extolling the virtues of this vile bunch of sonic sludge slingers. To mark the arrival of Kowloon Walled City's debut full-length, I managed to squeeze some answers out of guitarist Jason Pace.
You just released your debut full-length Gambling On The Richter Scale as both a free digital download and a limited edition vinyl/CD package with Perpetual Motion Machine. Why did you opt to go this route?
Well, we did this with our EP last time around, and it worked–a lot of people heard our music, and eventually we broke even, which to us is a rousing success. And we're almost out of the sexy red 10-inch. The thing is: music fans don't pay for music right now. If more than ten people like your music (11 like ours), chances are it'll end up on the Internet somewhere. The idea is to just embrace that aspect, acknowledge that most CDs are ripped and thrown in a box, and try to offer something special for those who DO have a physical packaging fetish. Paul at PMM was willing to go that route, so now we have another batch of beautiful vinyl goodness instead of a bunch of jewel boxes. I think a lot of labels, of all sizes and genres, are starting to look for ways to make their physical products appealing, or looking for new ways to monetize music, with varying degrees of desperation. The most hilarious recent example: Denny's now has musician-branded meals. The Rascall Flatts UNSTOPPABLE BREAKFAST. You can taste the fear in both board rooms.
Anyway, it helps that we're not some huge, international act–not sure how this would scale up. If we can get our tunes out there, we're happy. What's funny is even though it's up for free, you can still find transcoded RAR archives on broken english blogs. People will even steal free music.
Gambling On The Richter Scale distinctly displays the influence of 90s Amphetamine Reptile noise rockers on the Kowloon Walled City sound. Are there other bands that inspired the record that I'm just not noticing?
Well, that influence is certainly there. When Scott got things going, Unsane specifically was sort of the benchmark. Another benchmark from the start has been Shallow North Dakota, whom we had all known and loved before forming KWC. Otherwise, we are a real clusterfuck of influences, as we're all pretty rabid music fans. Recent t-shirts worn include Captain Beyond, James Gang, Oneida, Ken Mode, Circle, Godflesh, and Metallica. Recent van and setup music has included the Charlie Daniels Band, Billy Squier, Whitesnake, Priest, Amon Duul II, ZZ Top, YOB, Hall & Oates and AM Gold compilations.
So I don't know, it's hard to say which corn-like remnants remain visible when we dump out the influences, and which are lost in the brown. We did think about our EP a lot and sort of refining what was presented there. Otherwise it's a process of bringing in parts and paring them down, and the influences operate on a more subconscious level.
What's it like having your practice space in San Francisco's infamous Tenderloin?
By turns hilarious, depressing, and sketchy, depending on the day. The street out front usually has various groups of people smoking crack, fixing, urinating, buying, selling, talking gibberish… all a block from a police station. Containment. I guess mostly it's depressing.
Otherwise, hey, it's conveniently located, our room is big, the liquor stores are cheap, and there's some good grub nearby. And people usually leave you alone, aside from the occasional I'M YOUR CRACKHEAD ROADIE guy.
There are a great number of talented new noise rock bands emerging these days, Kowloon Walled City included. Are there any such groups that particularly interest or excite you?
Seattle's Madraso is about to upstage us this weekend, those guys kill it. Um, a quick survey reveals Wetnurse, Pissed Jeans, Litany for the Whale, Akimbo, Burmese, Helms Alee, American Heritage, Tombs, Black Elk, Kittens, KEN Mode. I personally am in love with Shit and Shine from the U.K., who may be the greatest band ever. Although they don't fit the NWoANR (if you will) bill.
Now that you have an album out, will Kowloon Walled City finally play some shows somewhere other than the West Coast?
Actually, plans are already in the works to at least do a few weeks on the other side of the country. We're looking at this coming spring, roughly. It's difficult for us to tour because we're a bunch of uncommitted old dudes with lives and wives and progeny and bad backs.
What's the deal with Snailface?
Snailface is where riffs that don't make it through our rigorous approval process go to die. Nay, to be given new life. Snailface saved KWC during hard times. The Snailface album was made for the RPM Challenge, where you make an album in a month (February) as a creative self-abuse exercise (no prizes are rewarded, aside from eternal glory). I think we cranked it out in a week. I hope we do it again in February, because it was a blast.
I am of the belief that all bands should have goof-off side projects. A lot of people like Snailface more than KWC. Those people should unite and put it out on (white 180 gram) vinyl for us.
How much do you love Shadows Fall?
Enough to create a Denny's breakfast for them: THE PLATE TO IMMINENT RUIN. Basically, it's just gravy and orange juice. Scraping genius off the plate.
-GS
[Gary Suarez is a grand slam. He usually manages the consistently off-topic No Yoko No. Say, why don't you follow him on Twitter?]
Sponsored Links from Across the Internet
Show Comments