PAGE HAMILTON'S "ART" ONLY ACCENTUATES THE AGONIZING DEMISE OF HELMET'S CREDIBILITY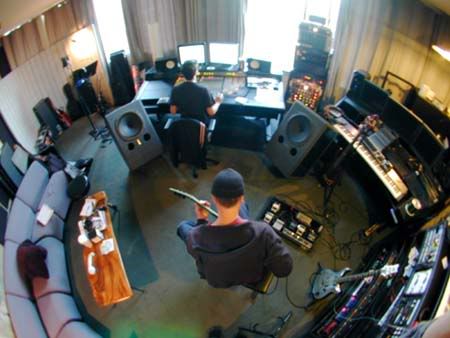 Wow, can this really be twentieth anniversary of Helmet? Well, yeah, the classic core of Henry Bogdan, Page Hamilton, and John Stanier disbanded in 1998. And sure, the reconstituted line-up that Hamilton unilaterally pulled together for 2004's better-than-expected Size Matters has degenerated entirely into an unrecognizable cast of hired guns spilling in and out of a literal revolving door. But, uhhh, barring that, technically the band did form in 1989, so even though there's only one original member and his last album Monochrome was fucking awful, I guess Hamilton is allowed to celebrate this moment.
But not like this.
You see, instead of taking this opportunity to reunite the old gang, a gesture that Helmet's fans continue to long for, Hamilton has decided that this is the perfect time to showcase his visual art.
To mark the 20th year, Helmet leader Page Hamilton began a project unlike any done before, exploring and revealing the origin of Helmet's sound and lyrics onto massive sized canvases – "Close to Home" 200 original art pieces – was born. The collection will be available to Helmet believers on Halloween 2009.
Apparently, if you sign up at the shamefully named Legacy Of Helmet site, you'll receive exclusive information about this project. Of course, I'm not a glutton for punishment, so I decided to listen to Strap It On, which still totally fucking rocks, by the way. Check out the video for "Bad Mood" below and remind yourself that Helmet used to be awesome.
-GS
[Gary Suarez is a handsome devil. He usually manages the consistently off-topic No Yoko No. Say, why don't you follow him on Twitter?]
Sponsored Links from Across the Internet
Show Comments