Necessary Roughness Week 12: Playoffs Are Coming
I recall saying some pretty positive things about the Chargers wayyyy early in the season. Like Week 3 early:
I'm going to double down on this prediction and say the Chargers will win the AFC West. What seemed improbable or even stupid a mere three months ago now seems like a lock! Had Younghoe Kue not missed three field goals in the first two weeks, the Chargers would very likely be 7-4 and in first place in the division. Unfortunately for them, he did. With the Chiefs in a tailspin (1-5 in their last six games), and the Raiders and Broncos too busy snatching each others' chains and literally fighting each other, the Chargers are a very real threat to leapfrog everyone. They're gonna want to get this kicker situation sorted out even further though. When kicker Nick Novak went down on Thanksgiving, punter Drew Kaser managed to miss the practice net while warming up to take Novak's place.
99% sure we saw someone move the net on punter Drew Kaser ???? pic.twitter.com/KsBtPzF56V

— The Checkdown (@thecheckdown) November 23, 2017
Luckily for the Bolts, the game was never really in danger of being ruined by a bad kick (Novak missed two!). Philip Rivers lit the 'boys defense UP to the tune of 434 yards and three TDs on just 33 attempts. Speaking of the Cowboys sucking, over the last three weeks Dak Prescott has thrown five picks and coughed up three fumbles. Without Sean Lee and Zeek, both the defense and offense look like shells of themselves. Football is the ultimate team sport, but when you have a transcendent guy go down on both sides of the ball, it exposes your weaknesses. To that end, Dak has been aired out following the Elliott suspension. I think it's safe to say that this Thursday's game against Washington is truly a make or break for both teams. Even with a win, either one will need some help to snag a wild card spot.
The @Eagles are ELECTRIC. ???? #FlyEaglesFly pic.twitter.com/LIZEsvoPQt

— NFL (@NFL) November 26, 2017
Overall the NFC seems like the way stronger conference this year, doesn't it? The Eagles, Vikings, Saints, and Rams all lead their divisions and the wildcard slots would be taken by the Panthers and Falcons if the season ended today. That is a LOT of high powered offense combined with a bunch of great defenses. I can't wait to watch how the wildcard race plays out. Let's break down the division leaders real quick:
Eagles: 10-1, Carson Wentz is a legit MVP candidate and Jay Ajayi came on midseason to add ANOTHER weapon who can score any time he touches the ball. The defense is number one against the run and number six overall in YPG allowed. They're running over everyone and not giving any ground. It's insane. Add a couple breaks like this and you're looking at a crazy run!
Ajayi fumbles into the end zone… But @nelsonagholor RECOVERS it for the @eagles TD! Wow. #FlyEaglesFly pic.twitter.com/BFesNrfdKW

— NFL (@NFL) November 26, 2017
Vikings: Somehow Case Keenum looks like a Pro-Bowler under center with Minnesota, so they don't have to rush Teddy Bridgewater back, their running crew all look really good behind their line and apparently Adam Thielen is the fastest man alive. Oh, and their defense is even BETTER than the Eagles'.
Adam Thielen is quick pic.twitter.com/Wk0DodEFBv

— Vikings Blogger (@firstandskol) November 19, 2017
Rams: Amazing what shitcanning Jeff Fischer can do! The Rams were 4-12 last year. Jared Goff and Todd Gurley looked like a steaming pile of bust and the defense was ok, but could only do so much while on the field for 40 minutes a game. Literally the best thing about them was their punter. Now, they're number four in total offense behind only the Pats, Saints, and Eagles.
Jared Goff is cool as ice. You can't see it from this angle but he points to where he wants JRey to go. Easy money. pic.twitter.com/4gOLYmAqZW

— Sosa (@SosaKre) November 27, 2017
Saints: The NFC South in particular has gone from a pit of mediocrity last year to probably the most compelling division in football. As noted above, if the season ended today, the South would have three teams in the playoffs. The Saints lost to the Rams on Sunday ending an eight game win streak, but I don't see anyone in their own division knocking them off. Their defense and run game are just too crazy right now and Drew Brees is always liable to throw for 500 yards and four TDs if you give him the chance. Alvin Kamara is wild AF.
#Saints rookie Alvin Kamara 74-yard touchdown against the #Ramspic.twitter.com/kZrlpqqp1k

— Dov Kleiman (@NFL_DovKleiman) November 26, 2017
Alvin Kamara doesn't make any sense… pic.twitter.com/psV9CFhnoB

— K.D. Drummond (@KDDrummondNFL) November 26, 2017
My personal hope for the playoffs is that the Jags manage to hold on to a wild card spot (or even win their division) and shake some shit up. I don't think the rest of the AFC is quite ready for their defense and their rushing attack. If they weren't Bortling around (and if Allen Robinson didn't go down early in the season), they'd be the clear favorite in the AFC South.
Leonard Fournette is a dog he's actually calling out defenders to tackle him pic.twitter.com/eIvqDd1j8J

— Football Is Life (@FootbaIl_Tweets) November 18, 2017
Fantasy Pimp of the Week
Julio Jones! 252 yds, 2 TDs. Including this one from Mohamed Sanu, who is now 6/6 for 228 yds and three TDs on his career as a passer.
Mohamed Sanu is a better QB than anyone on the Browns rosterpic.twitter.com/aP2j86sVtn

— NFL Retweet (@NFLRT) November 26, 2017
Some Random Thoughts
It's possible, and maybe even likely, that a 7-9 team will make the playoffs in the AFC. Let's all hope against hope it's the Raiders. The last time a losing team with Marshawn on it made the playoffs we were gifted with the original Beast Quake, a run so ridiculous NFL films made a seven and a half minute short about it:
It's awesome that we're seeing a rise in high powered running attacks. I think as fans we were so spoiled by the golden age of QBs that's currently coming to an end, that we forgot how great a beast running back can make the rest of his team. Leonard Fournette, Alvin Kamara, Ezekiel Elliot, Jay Ajayi, Todd Gurley, David Johnson are all first or second year players that are CRUSHING.
This was the only good thing about the Giants/Washington game as far as I could tell.
Nailed it. ????#NYGvsWAS pic.twitter.com/ZF6J652xUz

— NFL (@NFL) November 24, 2017
Song for Giants Fans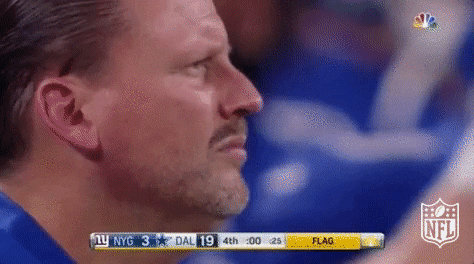 Let's keep the Soundgarden rolling. This week is "Mailman." We're heading for the bottom:
If, for some reason, you want to keep this schizophrenic abomination of a playlist for yourself, you can find it on Spotify here.
I'm heading out on tour with The Number Twelve Looks Like You next month. We're playing our now 12-year-old album Nuclear. Sad. Nuclear. in its entirety. Axl referred to it as "It is one exclamation point away from looking like a tweet from a certain used orange diaper currently passing itself off as a person." Come hang and let's try to forget about said diaper.
Sponsored Links from Across the Internet
Show Comments