Necessary Roughness: Divisional Playoffs
That may have been one of the most satisfying weekends of football I have ever watched. Let's not even mess around with an intro:
Falcons @ Eagles: I fully expected the Falcons to come to Philly and run right over the Eagles, but Jay Ajayi and Nick Foles had other plans! Why they didn't stick with Ajayi in the first half is beyond me. This game wouldn't have been nearly as close if they had just let Ajayi eat up the field and clock. Maybe I'm wrong though, maybe Foles needed to flail around a little in the first half to find his groove in the second. By the end of the game, he looked like 27 td/2 int Foles. The Falcons, for their part, didn't provide enough resistance on defense after a win in which they smothered one of the NFL's most high powered offenses in the Rams. On offense they couldn't get the ball in Julio Jones' hands enough and Devonta Freeman was absolutely nowhere to be found. Congrats to the Shitbirds… enjoy it while it lasts; Case Keenum apparently has a horsehoe up his ass now.
There goes @JayTrain!

HUGE gain of 33.#FlyEaglesFly #NFLPlayoffs pic.twitter.com/mzb8ihFR2S

— NFL (@NFL) January 14, 2018
Titans @ Patriots: This game definitely happened.
Jaguars @ Steelers: Of course I was pulling for my boy Bortles in this one. He and the Jags did not disappoint. Normally, I think it's nonsense when broadcasters or writers say that one team is looking past another, but I think in this case, that is exactly what happened. I mean…
I love round 2's…we'll have two round 2's in back to back weeks…

— Le'Veon Bell (@L_Bell26) January 14, 2018
Mike Mitchell on a potential rematch with the Patriots in the AFC Championship. pic.twitter.com/M4Pf8qWknU

— SportsCenter (@SportsCenter) January 10, 2018
The Jaguars came out and played like a team possessed. Leonard Fournette couldn't be stopped, the d-backs were in Big Ben's head and Blake Bortles wasn't taking stupid sacks or throwing picks. The Steelers made it a game with a few absolutely amazing catches from the killer B's. Even as Jacksonville ran it up in the fourth quarter, Ben's lateral to LeVeon Bell was incredible and made you feel like they were gonna pull it out.
Also, fuck Skip Bayless into the dirt:
One thing about Fournette: For all his athletic power, he has been fragile. If he's gone with a sprained ankle, Pittsburgh now has a chance to win this.

— Skip Bayless (@RealSkipBayless) January 14, 2018
Not one.
Not two.
But THREE @_fournette Divisional Round touchdowns!

His five best runs from #JAXvsTEN! pic.twitter.com/9jDBeAuLxt

— NFL (@NFL) January 15, 2018
That makes five TDs on the season at Heinz for Fournette and four for Bell. That's incredible. Hopefully this becomes a worthwhile rivalry.
Saints @ Vikings: As amazing and fun as the Jax/Pit game was, this one was even more incredible. It went about as perfectly as the Vikings could have hoped for. They managed to keep Drew Brees to three passing yards for a big chunk of the first half thanks to an early pick and ridiculously smothering defense. For all the hype of the regular season, the Saints' running game let them down for a second straight week. Despite all that, the Saints managed to claw their way back and take the lead in the fourth on an icy 43 yarder from Will Lutz. Then Case Keenum to Stefon Diggs became the first ever walkoff TD in postseason history!
CASE KEENUM TO STEFON DIGGS FOR THE WALK-OFF TOUCHDOWN TO BEAT THE SAINTS + TITANIC MUSIC #NOvsMIN pic.twitter.com/fdTvHRS9DV

— Matt Allaire (@AllaireMatt) January 15, 2018
It's worth mentioning that Case Keenum and Nick Foles were both completely anonymous under Jeff Fischer only three seasons ago. Now they'll be playing each other in the NFC Championship. If Jeff Fischer gets another job somewhere along the line, whoever hires him deserves the garbage he chokes their franchise to death with. Makes you wonder if Vince Young was really the basket case he appeared to be! The reason I harp on this Jeff Fischer thing is because the NFL is the ultimate "fail upward" venue. Coaches stick around forever because management has heard their name a billion times on ESPN and thinks that means they're qualified. We need more dudes like Sean McVay and fewer like Fischer in the league.
Jared Goff: Most Improved Player
Nick Foles: NFC Championship
Case Keenum: NFC Championship
Todd Gurley: MVP pic.twitter.com/T4ZS2yOLtC

— Ian Kenyon (@IanKenyonNFL) January 15, 2018
Next week I will personally be pulling for the Vikes and Jags, of course, because fuck the Eagles and fuck the Patriots. I believe that the Vikings are the team most capable of beating either the Pats or Jags in the Super Bowl and the Eagles are still frauds – they had a weak ass regular season schedule and tore through it, then they got to feast on the choke artist Falcons at home on Saturday. I'm not impressed.
I don't think it's impossible for the Jaguars to take this one from the Patriots. If Bortles keeps not fucking up and Fournette plays as fearlessly as he did at Heinz, the Pats will have their hands full. The Jaguars also had the league's number one pass defense all year, so I assume they'll look to beat up on Brady as much as possible while attempting to shut down Gronk and Cooks. A couple picks and a couple long drives could make this one very similar to the Saints/Vikings game this week.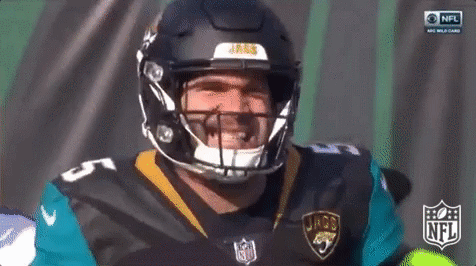 As for the Vikings against the Eagles? Well, the Vikings are now the hot hand with the aforementioned horseshoe up their asses and a pretty improbable season looks like it's heading for a home Super Bowl. Their defense should be able to stop up Ajayi and shut down Foles. If they can do that, this game won't even be close. If Ajayi manages to do what he did in the first half yesterday, it's gonna be a long day for the Vikings.
Sponsored Links from Across the Internet
Show Comments