CHRIS CORNELL REMINDS US ALL THAT "TO BE YOURSELF IS ALL THAT YOU CAN DO."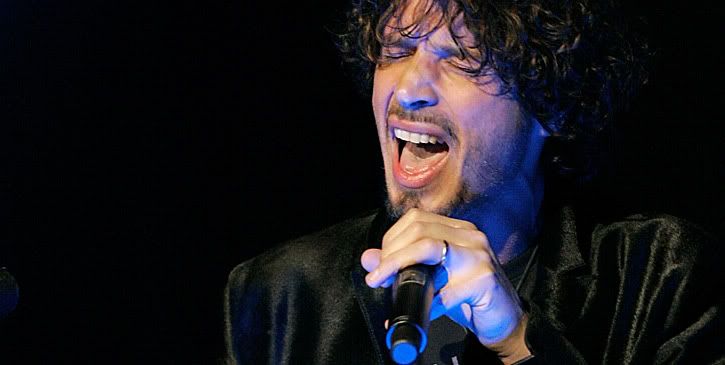 Chris Cornell has taken quite the public beating lately, from Trent Reznor's Twitter taunting to the generally negative response to his recent Timbaland-produced album Scream. (Check out what our own Sammy O'Hagar had to say about it.) Well, perhaps on the advice of some stodgy A&R type at the bloated major label he happens to be signed to, he's finally decided to respond to some of the criticism via the cutting edge music periodical known as The Washington Post. Below are some noteworthy extracts:
On Mr. Reznor's cyber-bullying: "That's kind of childish. To be honest, if I wanted to go out to blast records that I hate, I would be sitting on Twitter 24 hours a day blasting 96 percent of what comes out — maybe 98 percent of what comes out."
On the backlash from longtime fans: "Underground DJ culture is tearing this record up, and they're pretty snobby about what it is that they get into. From what I hear from other people, this album is just two years ahead of its time. But that's also still unrelated to my older fans. As music changes and the landscape of music and the styles of music that become popular change, it still doesn't mean that somebody in their 30s that's been listening to me since they were a teenager is going to like where that goes. This record is just very different."
On the recent Soundgarden reunion featuring Tad Doyle: "I thought it was cool that they'd actually get together and rehearse some songs. I was kind of surprised by it, to be honest. And I love Tad. We toured with Tad; I've always felt he was a really amazing person and a really talented guy. So I just really thought it was a cool thing for them to do."
So while we may not all be in agreement on Scream, we can at least take comfort in the universally accepted truth that Tad Doyle is awesome. Cornell is currently on tour, with a sold-out two-night residency at New York's Webster Hall beginning tonight. As previously threatened, I will be in attendance, demanding that he sing "Like Suicide" and drinking copious amounts of alcohol.
-GS
[Gary Suarez fell on black days. He also writes for Brainwashed and casually mismanages the consistently off-topic No Yoko No. Say, why don't you follow him on Twitter?]
Sponsored Links from Across the Internet
Show Comments