Necessary Roughness Week 8: Almost Halfway!
Damn, these first eight weeks flew by, huh? So far this has been a pretty damn entertaining season. If you told me before Week 1 that the following things would be true by Week 8, I would assume you were more than a little fucked up:
The Giants are 1-6
The Raiders are 3-5 and in fourth place in the AFC West
The Falcons are 4-3 and in third place in the NFC South
The Eagles have the best record in the league
The Rams and Texans have top five scoring offenses thanks to their legitimately great quarterback play
The Jaguars have the number one pass defense
Next week, if they manage to win, the Buffalo Bills will be tied for first with the Patriots. I'll honor my comment earlier in the season and dedicate this entire post to how awesome the Bills are. By the way, they're actually pretty good! Apparently they've scored 20+ points in each of their last 13 home games. That's a cool stat!
I think NFL.com is equally baffled by this season. Here's this morning's score box full of bizarre typos:
The game I spent the most time watching was thankfully a good one! The Seahawks edged out the Texans in what looked like a really good Madden simulation. Check out this highlight video since I can't embed it. DeShaun Watson and Russel Wilson combined for 854 passing yards and eight TDs. Russ looked awesome in the game and was able to both air it out and use his legs to keep plays alive. The dude had 482 total yards and his team only netted 479 (the Seahawks run game makes the Giants look like gods of rushing.)
Russell Wilson… #Seahawks pic.twitter.com/BsyAkiF6Y3

— NFL (@NFL) October 29, 2017
Deshaun Watson kept going after Richard Sherman early and even managed a couple TDs on him. Late in the game, Sherman took over and managed to pick Watson off in both the 3rd and 4th quarter. On the other side, this was the first game that I saw where I felt Jadeveon Clowney really shined. He made a mockery of the 'hawks O-line at various points. If the Texans ever get a full season with him and Watt healthy together, they're going to slay the AFC South. OK, fine… here it is:
The Patriots beat up on the Chargers, but only managed to barely cover the spread. The Chargers are cooked, but they're definitely good enough to play spoiler in the back half of the season, just like they did last year. Joey Bosa is an animal and you never know when Melvin Gordon is going to do something like this:
HE WILL GO ALL THE WAY!@melvingordon25.

87 yards to the HOUSE. #Chargers pic.twitter.com/mOTI7SKWm9

— NFL (@NFL) October 29, 2017
Of course if you follow it up with some stupid shit like this, you will have a hard time winning anything:
SAFETY. #LACvsNE pic.twitter.com/Tsf60mPp3K

— NFL (@NFL) October 29, 2017
I'm still kind of astounded that the Pats are in the position they're in right now. They were absolute world beaters last season and they went and signed a bunch of dudes to make them even more bulletproof. I guess we'll see what they next nine weeks bring, but they look very, very beatable for a lot of the NFL. I'm assuming they'll cruise in to the playoffs (unless #billsmafia drags them into a fight for the division), but they can't solely rely on Tom Brady to beat a team like the Rams, Eagles or Chiefs.
Last night's game was a great one, too. I think the Lions were one big Golden Tate play away from stealing it. They managed to not convert on TWO consecutive "and goal to go" situations. It was baffling to watch. I think it's safe to say that Martavius Bryant is about to shut the hell up when it comes to Juju Smith-Schuster's role in the Steelers' offense. Bryant is really good, but who needs him when you have Antonio Brown and Juju? Here's one situation where a player being a jackass seems like it could be a problem. Mike Tomlin says Bryant won't be traded, but why the hell not? You're good at WR, go upgrade some other part of your team for the playoffs!
Lions goal line playbook tonight pic.twitter.com/WzTQCCegkq

— Justin Marshall (@JTM21497) October 30, 2017
Fantasy Pimp of the Week
Holy shit, Juju! 198 yards and this insane TD:
And @TeamJuJu takes it all the way!
It's a 97-yard @steelers TOUCHDOWN ????#HereWeGo #PITvsDET pic.twitter.com/DcpbwwdagF

— NFL (@NFL) October 30, 2017
Some Random Thoughts
I don't think anyone is unhappy with the new rules change about TD celebrations. The NFL actually posted this!
????????????????????#HereWeGo #PITvsDET pic.twitter.com/EsSLE6utP5

— NFL (@NFL) October 30, 2017
How the FUCK was Zach Miller's TD called back? I switched over to that game for all of 10 minutes and had to endure about 35 replays of my dude's leg snapping like a chicken bone. I'll spare you the embed, but if you're morbidly curious, don't say I didn't warn you. Miller might LOSE HIS FUCKING LEG according to reports this morning. Pour one out for Zach tonight.
Will Fuller has seven TDs on 13 catches this season.
ANOTHER 1 for Will Fuller! ???????? pic.twitter.com/StnqDV8H4Z

— uSTADIUM (@uSTADIUM) October 29, 2017
It was even crazier earlier in the game:
Will Fuller leads the NFL with 7 TD catches… he has 11 (!!) total catches. pic.twitter.com/nPbtDFEntw

— NFLonCBS (@NFLonCBS) October 29, 2017
Song for Giants Fans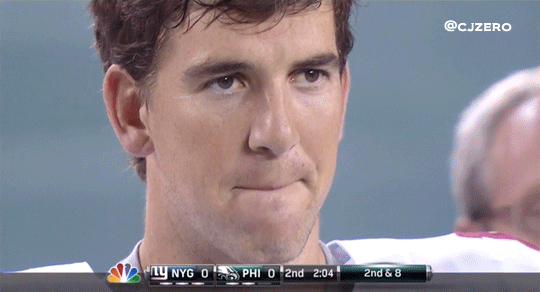 We mercifully had a bye this week, but we have to play the goddamn Rams (who are also coming off a bye) next week:
If, for some reason, you want to keep this schizophrenic abomination of a playlist for yourself, you can find it on Spotify here.
Sponsored Links from Across the Internet
Show Comments